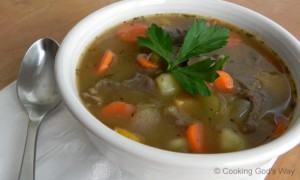 This winter beef stew is a great comfort food on any cold fall-winter night. It's filled with plenty of winter/root veggies that will delight anyone. Marinating the beef in red wine while you chop the veggies really helps to tenderize the meat, making it very tender…and delicious too!
Note: If you have kids or non-drinkers, you need not worry about the alcohol content…you will drain the wine off and any remaining will be cooked off.)

1 to 1 1/2 pounds grass-fed beef stew meat (any beef roast, cut into small cubes)
1 large rutabaga, peeled and chopped into bite-sized pieces
1 medium onion, chopped
2 to 3 stalks celery, chopped
3 carrots, peeled and chopped into bite-sized pieces
4 small yellow potatoes, peeled and chopped into bite-sized pieces
2 cloves garlic, minced
6 cups beef broth, preferably homemade
1 teaspoon dried thyme
1/2 teaspoon dried oregano
2 Tablespoons Lacto-fermented Ketchup (BBQ Sauce) (or store-bought ketchup

without

HFCS)
unrefined sea salt and black pepper, to taste
Red Wine, optional (but

really recommended

to tenderize the meat)
If using the red wine: Place cubes of meat in a medium bowl, pour some red wine over to just cover. Stir to coat in the wine. Allow to stand while you cut up all the vegetables, or for about 30 minutes or so.
In a 4-quart, or larger, dutch oven (or other pot) heat 1 Tbsp. coconut oil. Drain meat well, discarding wine, add to pot with heated oil. Brown the meat until only a little pink remains.
Add in the cut vegetables and garlic, sauteing for a few minutes.
Pour in the broth. Bring to a boil, stirring occasionally.
Stir in thyme and oregano, reduce the heat and allow to simmer (uncovered) for 30 to 40 minutes or so – until all the vegetables are fork tender.
Remove 2 cups of the soup, avoiding meat – being sure to get broth and vegetables only. Puree the removed soup using a stick blender or regular blender. Pour this puree back into the pot with the remainder of the soup.
Stir in ketchup and season to taste with salt / pepper and serve.
Serves 6 to 8.