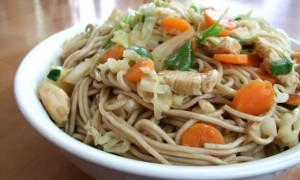 This simple Japanese inspired noodle/stir-fry dish is a favorite around our house. The kids love to slurp up the noodles coated with the tasty sauce….they are always asking for seconds.
The only bad thing is when it's gone 🙁
1/2 of a 12-ounce pkg. Buckwheat Soba Noodles (for a total of 6 ounces)
1 Tablespoon Virgin Coconut Oil
1 Tablespoon Cold-pressed Sesame Oil (good for flavor, but if you don't have just double the coconut oil)
2 small, boneless, skinless chicken breast, cut into bite-sized pieces
OR about 1 pound grass-fed beef sirloin, cut into strips
2 cloves garlic, minced
1 small green or red bell pepper, finely chopped
1 large carrot, peeled and sliced thinly into rounds
1/2 of a small head green cabbage, thinly shredded
2 to 3 green onions, chopped with green tops
1/2 cup soy sauce substitute
1 teaspoon arrowroot powder
1 Tablespoon Ume Plum Vinegar
Sea Salt and Black Pepper, to taste
Dried Red Pepper Flakes, optional
Cook noodles according to package directions. Drain and lightly rinse in cold water, set aside.
Heat Sesame and Coconut oils in a large skillet over medium-high heat. Add chicken (or beef) and garlic, cook until only a little pink remains.
Add bell pepper and carrots to skillet and continue to cook until just starting to get tender.
Add in cabbage and cook until wilted, stirring often.
Mix together arrowroot and plum vinegar until no lumps remain. Whisk into soy sauce substitute. Add mixture to the skillet.
Allow to cook until sauce is slightly thickened.
Remove from heat. Stir in green onions and noodles to combine. Season to taste with sea salt and black pepper.
Serve immediately. Top each serving with a sprinkle of red pepper flakes, if desired.
Serves 4.