Do you want an easy and convenient way to make the very best tasting lacto-fermented foods?
Well here it is…
Cooking God's Way, Lacto-fermentation Air-lock System
Using an air-lock system when making lacto-fermented foods has a number of benefits. Here are a few…
Better tasting ferments!
Air-tight seal!
Reduces mold on top of ferments! (less scraping fuzz away)
Releases pressure/gas naturally (no fear of jar exploding)!
The Cooking God's Way Air-lock System is 100% air-tight,
ensuring proper anaerobic fermentation!
Why the Cooking God's Way air-lock system is an economical and quality choice…
Works with any sized Wide-Mouth glass mason-type "canning" jar!
Fermented foods can be stored right in the same jar (no transferring)!
Our lids are BPA free! (FYI – regular "metal" canning lids

are not

BPA free)
Custom-made FDA-approved Natural Rubber Gasket – for an air-tight seal
Easy to clean!
Simple to use!
VIDEO: Easy Assembly of the Cooking God's Way
Lacto-fermentation Air-lock System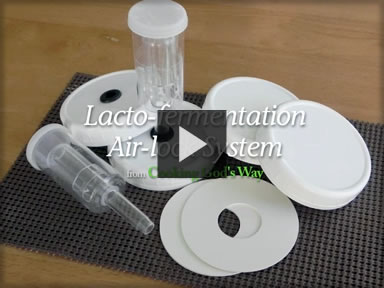 - Lacto-fermented Ketchup
– Homemade Mayonnaise
– Lacto-fermented Hummus
– Lacto-fermented "Deli-Style" Pickle Spears
View more FREE lacto-fermentation recipes OR purchase "Lacto-fermenting: The Easy & Healthy Way" for over 40 lacto-fermentation recipes not available here. Save $$$ when you purchase the book and air-lock system together!
Our air-lock system will make fermenting foods fun

and

easy!
Since standard wide-mouth jars are used, you can choose any jar size depending on how much food you wish to ferment… Pint, Quart, Half Gallon (2-quarts). The wide mouth also makes cleaning a breeze and expandability easy. If you break a jar, or just wish to expand, simply buy any wide-mouth glass mason-type canning jar(s) as needed. (They can be found in hardware stores like ACE Hardware, Wal-mart, or even sometimes in second-hand/thrift shops.)
*Please note jars are not included with kit due to shipping/packing costs. You must supply standard wide-mouth glass canning jar(s).

– 11 quick & easy comprehensive lessons.
— Learn at your own pace.
— Includes support from the professionals.
WAIT! Purchase our "Total Lacto-fermenting Kit" and

Save

!

The Total Lacto-fermenting Kit includes everything you need to get started in lacto-fermenting.

1 book, Lacto-fermenting: The Easy & Healthy Way
+ 1 Lacto-fermentation Air-lock System

Save $$$ off the already reduced price!
Need extra Storage Lids? Find them here!
Don't forget the Lacto-fermentation Weights!
Lacto-fermentation Air-lock System for Wide-mouth Mason Jars

Includes:

2 air-lock tubes (3 piece system)
2 BPA-free plastic lids w/ food-safe grommets
2 solid BPA-free storage lids
2 FDA-approved natural rubber gaskets (for air-tight seal)
Illustrated instructions for assembly and use
BONUS Lacto-fermentation Recipe (not on website)

Go ahead… Order your

Lacto-fermentation Air-lock Kit

TODAY!

*Jar(s) not included… you must supply your own wide-mouth glass Mason-type canning jar(s).

Don't forget to order a kit for that friend or family member. (Save when you order multiple kits see details.)





$17.95

plus shipping
List Price: $29.95