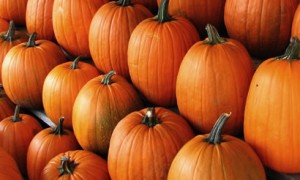 This spicy pumpkin butter is great spread on toast with butter or mixed into plain yogurt…..and I'm sure there are so many other ways to enjoy it too

Place the pumpkin butter in a decorative jar and give away as a gifts for the holidays. If you are not on a sugar-restricted diet (such as the Maximized Living Advanced Healing Diet), you may sweeten with up to 1/4 cup dark muscovado sugar
in place of the stevia. Feel free to adjust the spices to your taste.
1 large can (29 ounces) pumpkin puree, about 3 1/2 cups
1/2 cup organic, unsweetened, apple sauce
1/2 cup filtered water
pinch (1/16 tsp.) NuNaturals NuStevia™ White Stevia™ Powder
2 teaspoons cinnamon
1/2 teaspoon ground ginger
1/2 teaspoon ground cloves
1/4 teaspoon nutmeg
In a medium saucepan, combine the pumpkin puree, applesauce, water, stevia, cinnamon, ginger, cloves, and nutmeg; bring to a boil.
Reduce heat to medium, or lower to keep any splattering down, and continue to cook while stirring constantly, until thickened (about 20 to 30 minutes).
Place hot mixture into clean heat-proof jars, screw lid on tightly, and place in the refrigerator to chill. Pumpkin Butter will keep for several weeks in the refrigerator (or can be frozen for longer).
Note: It is not recommended to "can" pumpkin butter and/or squash purees. See this link for more information. (http://www.fcs.uga.edu/pubs/current/FDNS-E-P.html)
Makes 1-Quart
*Sugar-Free / Grain-Free
Email To A Friend

Print This Page