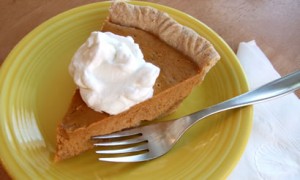 Pumpkin Pie is the classic pie to serve around the fall holiday season. I love pumpkin pie, but to be honest, it has to be spiced just right and not overly sweet. After a few trials I've come up with the perfect combination. This is my absolute favorite recipe for Pumpkin Pie… I hope you enjoy it as much as I do! Wishing you and yours a Happy Thanksgiving!
On another note………..What are you thankful for??? Please feel free to comment (I will start it off) and let us all know what you are thankful for this time of year and all year long for that matter.

Traditional Pumpkin Pie
I love Thanksgiving and I LOVE pumpkin pie! This is my absolute favorite recipe for Pumpkin Pie, which is lightly sweetened and spiced just right. When topped with fresh whipped cream this pie is a delight!
Cuisine:
American, Holiday
Ingredients
1 (9-inch) Pie-crust, already prepared
3 eggs
½ to ¾ cup Rapadura or Sucanat, to taste (I use ½ cup + 1 Tbsp.)
1 can (15 ounces) pumpkin puree (not pie filling) OR 2 cups homemade pumpkin puree
1 teaspoon ground cinnamon
½ teaspoon ground ginger
¼ teaspoon ground cloves
½ teaspoon unrefined salt
¾ cup sour cream
½ cup whole milk
Instructions
Preheat oven to 350˚F. Bake pie shell for 10 minutes. Set a side.
In a large bowl, whisk together the eggs, rapadura (or sucanat), salt, and spices until combined.
Add pumpkin puree, followed by sour cream and milk; whisking until smooth.
Place pie shell in oven, pour in the filling and bake for 40 to 50 minutes; until filling is set but not completely firm (the filling should jiggle a bit in the center when the pan is nudged).
Cool pie for 2 hours on a cooling rack; then move to the refrigerator until ready to serve. Serve with fresh whipped cream.
Notes
To prevent the crust from getting too brown, halfway through baking simply cover the edges of the crust with foil or a handy
pie crust shield
.

Email To A Friend