This pumpkin soup is all about flavor and presentation. I got the inspiration from watching my favorite cooking shows, "Good Eats" on the Food Network. It's a beautiful dish that is baked right "inside" the pumpkin itself. This soup is perfect for the holiday season, and is great for parties and family gatherings.
Alton Brown made this recipe on the latest show about pumpkin (I changed it slightly). I love how he is entertaining, creative, and really teaches you interesting facts as well. I learn something new all the time!
You could use this "adapted" version for the obvious main course dinner with a side salad and some crusty sourdough bread (especially after the Holiday dinner when you have leftover turkey to use up). But it would also be great as part of the Holiday family get-together "feast" when served in smaller portions besides the main meal.
Ingredients

1 whole sugar "pie" pumpkin (4 pounds)
Coconut oil or butter (small amount for greasing pumpkin)
1 Tablespoon butter
1 small onion, diced
1 small apple, peeled/cored/diced
1 small stick of celery, diced
1/2 teaspoon unrefined sea salt
1/8 teaspoon white pepper
1/2 tsp. dried sage (crumbled between fingers)
1/2 tsp. dried thyme
1 smidgen (1/32 tsp.) ground nutmeg
1 cup chicken broth
1/2 cup raw cream (or store-bought, NOT ultra-pasteurized)
2 ounces goat cheese
3/4 cup cooked, diced, chicken or turkey meat (perfect for using that left-over holiday turkey meat)
Directions
Pre-heat oven to 375F.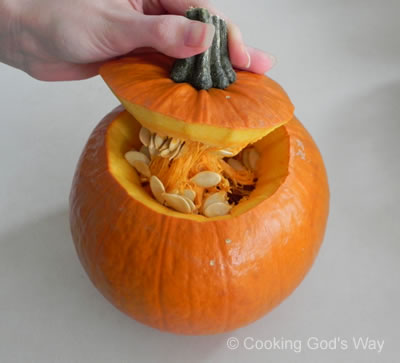 Wash the outside of your pumpkin and dry well. Cut top of pumpkin off like you would for a jack-o-lantern. Be sure to make the hole large enough so that you will be able to put your hand in the pumpkin easily.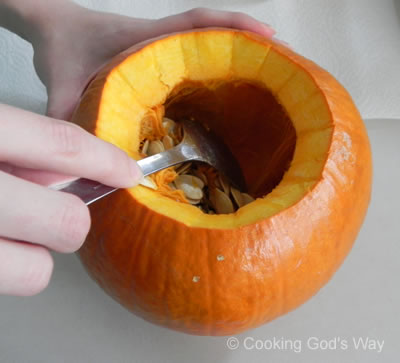 Scrape out all of the seeds and stringy fibers inside the pumpkin. It is easiest to do when using a metal ice cream spade or some other sort of similar shaped spoon. (Be sure to save the seeds for soaking, drying, and lightly toasting… as they make a wonderfully nutritious snack.)
Rub a small amount of coconut oil (or butter) on the outside of the pumpkin. Place the oiled pumpkin inside a round casserole dish that is large enough to hold it.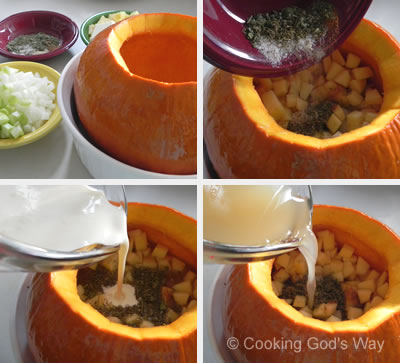 Remove lid from pumpkin. Add in the 1 Tbsp of butter, onion, apple, celery, salt, pepper, sage, thyme, and nutmeg. Pour in the broth and cream. Place lid of pumpkin on top to close it up.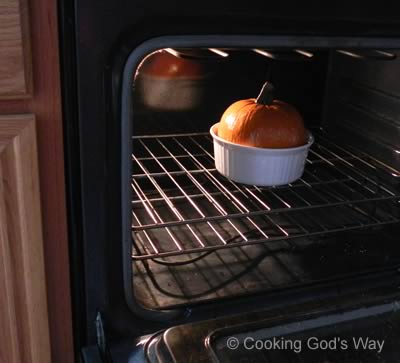 Put casserole with pumpkin inside preheated oven. Allow to bake for 1 1/2 hours.
Remove pumpkin lid and add in the goat cheese. Bake for 30 minutes more uncovered (leaving the pumpkin lid off).
Remove pumpkin from the oven. Stir soup inside the pumpkin to make sure all ingredients are incorporated throughout. Ladle out about half of the soup, set aside to reserve.
Using a spoon, gently scrape some of the flesh from insides of the pumpkin into the remaining soup left in the pumpkin. With an immersion blender, puree the soup inside the pumpkin to the desired consistency.
Add in the reserved soup and the cooked chicken (or turkey). Stir to combine.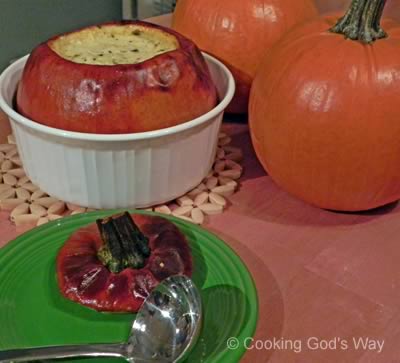 Season to taste with more salt and/or pepper, if needed. Place a ladle in the pumpkin, bring it to the table, and serve immediately in individual bowls.
Don't throw out that pumpkin shell just yet!

You can scrape out the shell and save all that wonderful pumpkin for another meal. Come up with something new, or make another batch of the soup in a pot on the stove-top (instead of in a pumpkin shell).
Serves 4 (plus plenty of leftover pumpkin).
Looking for other Holiday Recipes? View more…

Email To A Friend

Print This Page