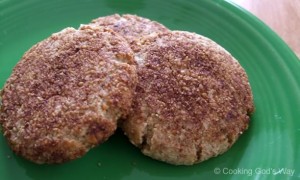 These snickerdoodle cookies are a favorite of children…especially MY children. They are a simple cookie that is easy to make. Just throw the ingredients into the food processor, roll in a yummy cinnamon-sugar mixture, and bake.
Voila! You then have a deliciously-topped cinnamon sugar cookie that is sure to be enjoyed by everyone!
1 1/2 cups almonds (soaked & dried using the Nourishing Traditions method)
1/2 cup butter or coconut oil, softened (not melted)
1 large egg
1 cup arrowroot powder
1/3 cup rapadura
pinch (1/6 tsp.) of NuNaturals NuStevia™ White Stevia™ Powder
1/2 teaspoon salt (reduce to 1/4 tsp. if using all salted butter)
1 teaspoon vanilla extract
1/2 teaspoon baking soda
1 teaspoon vinegar
Topping: 3 Tbsp. Maple Sugar OR Rapadura / Sucanat + 3 tsp. Ground Cinnamon
Preheat oven to 350F. Line a baking/cookie sheet with parchment paper, for easy clean up. (or grease an unlined cookie sheet)
Place the almonds in a food processor and process until they are ground into a fine meal. Add the remaining ingredients (except the topping mixture), and process until well blended. The dough will probably be clumped together on one-side of the food processor. If dough seems soft, or a little warm, place in the refrigerator until firm.
Scoop out 1-Tablespoon sized portions of dough, roll into a ball with your hands and then into the sugar-cinnamon mixture to coat. Place on prepared baking sheet, a few inches apart, repeating until sheet is full.
Bake cookies 5 minutes, then flatten the cookies with the bottom of a flat glass or measuring cup. Continue baking for 5 to 8 minutes more; the edges will be golden and firm, but the center will be slightly soft. Remove to a cooling rack and serve slightly warm or completely cooled.
Makes approx. 2 1/2-dozen cookies.