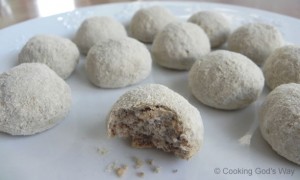 It's okay to indulge a little during the holidays, but it's always best to avoid highly-processed foods. Here is a favorite Christmas cookie, Snowball Cookies…they are tender little gems that melt in your mouth. This version has been updated with "better for you" ingredients. So you can feel good about making and sharing these this holiday season.
1 1/2 cups pecan pieces
6 Tablespoons butter, softened
1 cup arrowroot powder
1/4 teaspoon unrefined sea salt (reduce to 1/8 tsp. if using salted butter)
1 teaspoon vanilla extract
Powdered Rapadura or Sucanat (see how to below)
How to Make "Powdered" Rapadura or Sucanat

Place some rapadura (or sucanat) into container of Vitamix, or blender, or food processor. Process until sugar is finely ground and "powdered". Use to roll cookies in as instructed. (If desired, for each cup of powdered sugar made, mix in 2 Tbsp. arrowroot powder – this helps with the texture and thickening properties of the powdered sugar.)
Preheat oven to 325F.
Place pecans in food process and grind until a fine meal. Add in the butter, arrowroot powder, 1/4 cup rapadura (or sucanat), salt, and vanilla extract. Process again until all ingredients are thoroughly mixed, and the dough clumps together and forms a ball.
Using a small cookie scoop, scoop out 1 Tablespoon-sized balls of dough. Roll in your hands to form into a smooth ball. (If the dough is too warm or soft to work with, you can chill for a few minutes to firm it up.) Place balls of dough onto parchment lined cookie sheet. Bake in preheated oven for 20 to 25 minutes, until light golden brown. (The cookies will still feel somewhat soft, this is their nature.)
Leave on sheet for 1 to 2 minutes. Then remove, individually, to a small bowl filled with "powdered" sugar. Gently use a fork to roll them in the sugar to coat. With fork, remove cookies to a wire rack to cool completely. After the cookies have cooled, roll them in the sugar again.
You may enjoy the cookies after they cool completely. (before this they will be too crumbly)

Makes 2 1/2 dozen cookies.