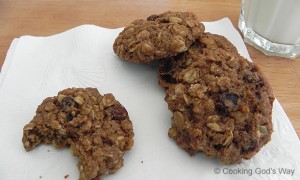 Finally, an oatmeal cookie that is "soaked" for optimum nutrition and really tastes like an oatmeal cookie! (If you want to learn more about why it is important to "soak" grains, it is covered in lesson 3 of our free eCourse.)
I have to say these cookies are soooo good you will find it hard to eat just one or two. They are loved by bother children and adults alike.
1 cup spelt flour
2 cups rolled oats (not instant)
3/4 cup butter or coconut oil, melted
2 Tablespoons raw apple cider vinegar
1 large egg
1/2 cup dark brown molasses sugar
OR dark muscovado sugar
1/2 teaspoon unrefined sea salt (reduce to 1/4 tsp. if using salted butter)
1 1/2 teaspoons ground cinnamon
1/2 teaspoon baking soda
1/2 cup (packed) raisins, or more as desired
1/4 cup chopped walnuts, if desired (I omitted this time and they were still great)
8 to 12 hours before you want to bake the cookies: Add flour and oats to a large mixing bowl, mix gently to combine. Drizzle melted butter and vinegar over top of oat-flour mixture; stir in until moistened throughout. (Note: mixture will be moistened, though not "wet", and somewhat crumbly.) Cover bowl and set aside, at room temperature, for 8+ hours (up to 12).
Cookie baking day (8+ hours later): Preheat oven to 375F. Line a large baking sheet with parchment paper, set aside.
In a medium bowl, whisk together the egg, brown sugar, salt, cinnamon, and baking soda.
Add egg-sugar mixture to the bowl of "soaked" flour-oats. Stir in with a wooden spoon until thoroughly combined.
Fold in raisins and nuts (if using).
Scoop cookie dough onto prepared baking sheet in 1 Tbsp. sized mounds, place in oven. After 5 minutes of baking, flatten the cookies slightly using the back of a small spoon. Bake for about 5 minutes more, until edges are golden and the cookies firm up in the middle.
Immediately remove cookies  to a wire rack to cool.
Enjoy cookies slightly warm, or completely cooled, with a glass of cold milk…Yummm!
Makes about 40-cookies.