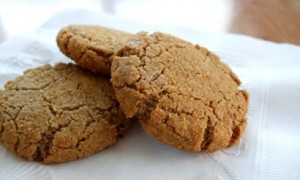 These grain-free cookies are great with a cold glass of milk or a hot cup of tea. I love them, as well as do my children. Rolling the cookies in maple sugar (or rapadura) before baking gives them an extra crunchiness on the outside…not to mention just adds that special festive touch. Great for the holidays! The cookies are fairly easy to make, as everything is done in the food processor. Quick and easy 🙂
1 1/2 cups almonds (soaked & dried using the Nourishing Traditions method)
1/2 cup butter or coconut oil, softened (not melted)
1 large egg
1 cup arrowroot powder
1/3 cup rapadura
pinch (1/6 tsp.) of NuNaturals NuStevia™ White Stevia™ Powder
1/2 teaspoon salt (reduce to 1/4 tsp. if using salted butter)
1 teaspoon vanilla extract
1/2 teaspoon almond extract
1/2 teaspoon baking soda
2 teaspoons ground ginger
1/4 teaspoon ground cloves
1/8 teaspoon ground cinnamon
Maple Sugar or Rapadura Sugar, for rolling cookies in before baking (optional)
Note on Rolling the Cookies in Sugar: I found that I prefer to roll them in maple sugar due to the coloring. The rapadura tends to make the cookies look dirty, while the maple sugar gives them a golden hue…both taste good, one just looks prettier.
Preheat oven to 350F. Line a baking/cookie sheet with parchment paper, for easy clean up. (or grease an un-lined cookie sheet)
Place the almonds in a food processor and process until they are ground into a fine meal. Add the remaining ingredients (except the extract sugar for rolling the cookies in), and process until well blended. The dough will probably be clumped together on one-side of the food processor. If dough seems soft, or a little warm, place in the refrigerator until firm.
Scoop out 1-Tablespoon sized portions of dough, roll into a ball with your hands and then into maple sugar to coat. Place on prepared baking sheet, a few inches apart, repeating until sheet is full.
Bake cookies 5 minutes, then flatten the cookies with the bottom of a flat glass or measuring cup. Continue baking for 5 to 8 minutes more; the edges will be golden and firm, but the center will be slightly soft. Remove to a cooling rack and serve slightly warm or completely cooled.
Makes approx. 2 1/2-dozen cookies.