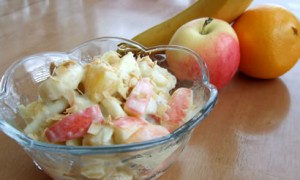 This ambrosia fruit salad is made with creamy coconut milk instead of mayonnaise. It would be a welcome addition to any party or potluck…and a healthy one too 🙂 Feel free to use any combination of fruit that you like in this salad, fresh or canned (no sugar added/drained well). Try halved grapes, sliced/chopped apple, pineapple, mandarin oranges or tangerines, strawberries, and the list goes on…..just use a total of 4 to 5 cups of fruit in any combination.
1/2 cup coconut milk (from a 14 ounce can, full-fat,

not light

)
2 Tablespoons raw honey, slightly softened (for a sugar-free version, use stevia, to taste)
1/2 teaspoon vanilla extract
zest of 1 orange
2 large oranges, peels and pith removed, roughly chopped
2 apples, cored, seeded and roughly chopped
1/2 cup red or green grapes, halved
1 large banana
2 Tablespoons lemon juice, or more as needed
1/2 cup chopped, lightly toasted walnuts
2 Tablespoons coconut flakes, lightly toasted
Toss chopped apples and slice banana in lemon juice, to prevent browning. Drain off juice.
In a large bowl, whisk together the coconut milk, honey, vanilla, and orange zest until honey dissolves and mixture is smooth.
Add the chopped oranges and apples, halved grapes, and sliced banana to the bowl of coconut milk. Toss lightly, to coat thoroughly. Cover and refrigerate for at least 1 hour, until well chilled.
Before serving add chopped walnuts to fruit salad, tossing gently to mix. Top with flaked toasted coconut. Serve cold.
Serves 4 to 6.

Email To A Friend

Print This Page