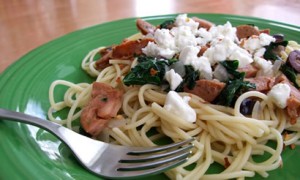 This pasta dish is inspired by both Greek and Italian flavors. It can be made with the chicken sausage (can be found at Target and other specialty stores) or simply some cooked chicken breast meat that you have seasoned with fennel seed, basil oregano, etc.. Garnish each serving with crumbled Feta cheese or grated Parmesan cheese…allow each person to season to taste with black pepper and/or red pepper flakes. This dish is great served warm or at room temp/cool, for those hot summer days.
1/2 to 3/4 pound spaghetti, cooked al dente
1 Tablespoon extra-virgin olive oil
1 small onion, chopped
1 to 2 cloves garlic, minced
1 package (12 ounces) natural, no chemicals added, Chicken Italian-style Sausage, cut in bite-sized pieces
OR cooked, chopped, chicken breast meat, seasoned to taste with fennel seed, basil, oregano etc.
4 cups kale, rinsed (but not drained), stemmed and roughly chopped
1/2 cup Kalamata olives in brine, drained, pitted, & sliced
1 Tablespoon lemon juice
crumbled feta cheese OR grated parmesan cheese, for garnish
black pepper AND/OR red pepper flakes, to taste
Cook pasta according to directions.
Heat olive oil in a large skillet over medium heat. Add onions, garlic, and sausage (if using), cook until onions are just soft. Add kale and cook until wilted. Stir in black olives and lemon juice.
Serve over pasta, garnished with feta or parmesan cheese. Allow each person to season their own plate to taste with black pepper and/or red pepper flakes.
Serves 4.