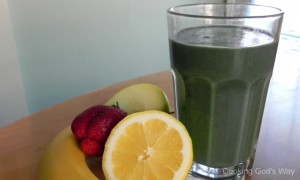 Odwalla's fruit juice drinks sure are tasty – Heck I used to enjoy drinking them thinking I was doing something great for my body. But it turns out they are not quite as healthy as they seem. My issue with the fruit drinks are not taste, but otherwise. 1) They contain Soy Lecithin, see why I avoid any soy. 2) They are a little $pricey. AND 3) They are flash pasteurized. As stated on their web site: "…the juice is rapidly heated for a short period of time to a temperature high enough to eliminate harmful bacteria. It's then quickly cooled to retain fresh flavors and nutrients."
I'm not sure about you, but I prefer to make my own fruit smoothies. It's easy, inexpensive and the end result tastes just as good (if not better) than some of those store-bought beverages. And at least you know that you're getting ALL of the nutrients available to you.
1/2 cup full-fat coconut milk
OR 1/2 cup whole-milk plain yogurt
1/2 cup filtered water
Juice of half a lemon
1 small banana
1/2 of an apple, peeled and cored
6 ounces frozen pineapple
2 to 3 frozen peach slices
AND/OR strawberries
Stevia, to taste (optional)
1/8 to 1/4 teaspoon Vitamin C Powder, optional
2 teaspoons Spirulina Powder (learn more about the benefits of Spirulina)
In container of blender, add first 5 ingredients in the order listed. Process until mixture is smooth.
Add in frozen fruit and process again until smooth.
Sweeten to taste with a few drops of stevia, if desired. Add in Vitamin C powder, if using, and process briefly to mix in.
With machine running, preferably on low speed, sprinkle in the Spirulina Powder (this will help to keep the powder from forming lumps and clumping together).
Enjoy immediately.
Serves 2