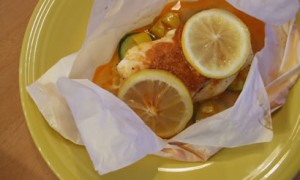 Cooking fish en papillote sounds elegant and looks elegant, but it is quite easy to prepare. En Papillote really means 'in parchment', in French. This is a very healthy way of preparing fish. You can use other vegetables if you wish, just make sure they are sliced or diced very small so they will cook through by the time the fish is done.
4 sheets (12″ x 15″ each) parchment paper
1 medium, or 2 small zucchini, sliced into 1/8-inch rounds
1 red or yellow bell pepper, finely chopped
4 (4 to 6 ounces each) Alaska cod fillets, thawed if from frozen
salt and pepper, to taste
1 lemon, cut into thick slices (slightly more than 1/4-inch)
1 recipe, already prepared, Paprika-Parmesan Butter (cold), see recipe below
Preheat oven to 400°F.
Take a sheet of parchment (12″ x 15″) and fold it in half. Unfold it (open it up) and place several slices of zucchini on one side of the fold, in a single layer. Top the zucchini slices with some of the chopped bell pepper and season with salt and pepper. Place one fish fillet on top of the vegetables and season with salt and pepper also. Place one or two pats of the Paprika-Parmesan Butter (depending on the size of the fillet) on top of the fish, then top with a thick slice of lemon. Drizzle fish and vegetables lightly with olive oil. Fold over the parchment to cover the fish and fold and crimp the edges to seal. (Follow this link, to see an example of how to fold the packets up.)
Carefully place the packets on a baking sheet, you may have to divide them between two baking sheets. Bake for 15 to 20 minutes. To serve simply place the packets onto individual plates; carefully cut open the parchment with kitchen sears in an X-pattern (watch out for steam, to avoid getting burned).
Serves 4.
*Sugar-Free / Grain-Free
Paprika-Parmesan Butter *

4 Tablespoons (1/4 cup) butter, softened
1/4 cup grated parmesan cheese
2 teaspoons paprika
1 teaspoon dijon mustard
1/4 teaspoon salt
pinch of cayenne pepper

Place all ingredients in a food processor. Process until everything is thoroughly mixed.

Spoon the butter mixture onto a piece of plastic wrap, form into a log-shape and roll up. Twist ends to close and store in the refrigerator until firm.

Makes about 1/4-cup of butter.

*Sugar-Free / Grain-Free

Email To A Friend

Print This Page