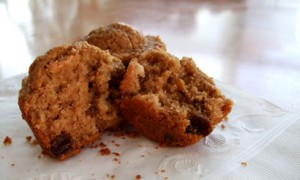 These whole-grain oatmeal raisin muffins are reminiscent of an oatmeal cookie. They are deliciously soft and delicate with a touch of spice, made with whole grains, and sweetened with honey.
The muffins benefit from and overnight soaking, which in-turn will benefit you and your family's health. To read more about soaking grains, read this article or get a copy of Nourishing Traditions: The Cookbook that Challenges Politically Correct Nutrition and the Diet Dictocrats
by Sally Fallon (you can find this book in our store).
1 cup thick-rolled oats (not quick or instant)
1 cup whole spelt flour
1 cup buttermilk (or 1 Tbsp. apple-cider vinegar + enough milk to = 1 cup)
1 large egg
1/3 cup raw honey (slightly softened if needed)
pinch (1/16 tsp.) of NuNaturals NuStevia™ White Stevia™ Powder
1/4 cup organic applesauce (unsweetened)
1/4 cup coconut oil, melted
1 teaspoon vanilla extract
1/2 teaspoon salt
1/2 teaspoon ground cinnamon
1/4 teaspoon ground cloves
1 teaspoon baking powder
1 teaspoon baking soda
1/2 to 2/3 cup organic raisins
1/2 cup chopped walnuts (optional)
12 to 24 hours before you wish to make the muffins: Stir together the oats, whole spelt flour, and buttermilk in a large mixing bowl until moistened all the way through. Cover the bowl with a towel or plastic-wrap and let set for 12 to 24 hours.
The next day, when you are ready to bake the muffins: Preheat the oven to 375F. Grease 24 mini-muffin cups with coconut oil and set aside.
In a medium mixing bowl, beat eggs with a wire whisk. Add in honey and whisk to combine, followed by the stevia, applesauce, oil, and vanilla. Next whisk in the salt, cinnamon, cloves, baking powder, and baking soda until combined and no lumps remain.
Pour half of the egg-honey-oil mixture into the bowl of soaked oats/flour. Fold in with a wooden spoon until partially mixed. Add in the rest of the liquid mixture to the batter and continue to fold and stir until thoroughly combined. Fold in raisins and nuts (if using).
Fill prepared mini-muffin cups 2/3 full with batter. Bake 12 to 15 minutes, or until golden brown on top and a toothpick inserted in the center comes out clean. Leave in pan to cool for 2 minutes, then gently remove muffins to a wire rack to cool completely (or at least until cool enough to eat, as they are great warm too).
Makes 24 mini-muffins.