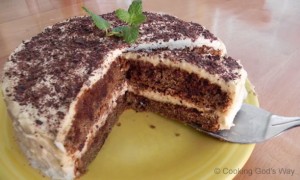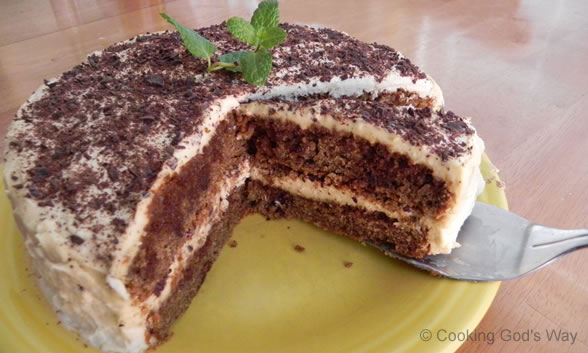 This cake is a delicious "healthier" version of that favorite Italian dessert. Made with Teeccino Herbal Coffee (to avoid the caffeine) so I can even let my children indulge in this treat… and boy do they love it! 😉
(This cake is a little more involved, so the recipe is broken up into individual ingredients / instructions – with assembly instructions at the end.)
CAKE
1 1/2 cup whole spelt flour
1 Tablespoon raw apple cider vinegar
1 cup raw whole milk
1/2 cup butter, softened
1/2 cup sucanat or rapadura
2 large eggs
2 teaspoons vanilla extract
1/2 teaspoon unrefined sea salt
1 teaspoon baking soda
12 to 24 hours before you wish to make the cake: In a mixing bowl, combine the flour, vinegar, and milk. Stir until moistened throughout. Cover and let set, at room temperature, for 12 to 24 hours to soak.
The next day, or when you are ready to BAKE the cake: Preheat oven to 325F. Grease and flour a 9-inch round (or square) cake pan; set aside.
In a mixing bowl beat butter with an electric mixer on medium speed for 30 seconds. Gradually add in the sugar, beating for about 5 minutes, until very light and fluffy – stopping halfway to scrape bowl.
Beat in vanilla and salt, followed by eggs, one at a time, beating for 30 seconds and scraping bowl after each addition.
Beat in baking soda along with soaked flour mixture until well combined and smooth, scraping bowl as necessary.
Pour batter into prepared pan and tap gently on counter to pop any air-bubbles.
Place in preheated oven and bake for 40 to 50 minutes, or until a tooth pick inserted in the center of cake comes out clean.
Remove cake pan from oven and place on a wire rack to cool for 10 minutes. Carefully run a thin knife around the cake in the pan. Carefully flip cake onto a wire rack to cool completely. Meanwhile, make the Coffee (Teeccino) syrup.
---
TEECCINO-COFFEE SYRUP
1 1/2 cups brewed Teeccino Herbal Coffee, any flavor – I like Java
1 Tablespoon cognac or rum, optional (the alcohol will be boiled off)
1/4 to 1/3 cup sucanat or rapadura
OR to avoid excess sugar use a Pinch (1/16 tsp.) stevia powder
Place Teeccino and cognac (if using) in a small saucepan and bring to a boil. Reduce heat slightly and allow to simmer for about 20 minutes, or until reduced to 3/4 cup. Remove from heat, stir in sugar or stevia powder until dissolved. Set aside to cool slightly while you make the filling.
---
FILLING/FROSTING
12 ounces cream cheese, softened
1 1/2 teaspoons vanilla extract
1/2 cup sucanat or rapadura
1 1/2 cups raw cream (or store-bought heavy cream, NOT ultra-pasteurized)
In a large mixing bowl, beat cream cheese and vanilla with an electric mixer until creamy. Add in sugar and beat until well combined and fluffy. Scrape bowl. Gradually add in the cream while continuing to beat until soft peaks form.
---
GARNISH/TOPPING
1 ounce of 100% cacao baking chocolate, shaved with a sharp knife or grated
---
To Assemble the Cake:
Split cooled cake into two even layers (works great with this cake leveler/slicer
), carefully separate the layers. Place first layer, cut-side up on cake tray or platter and brush generously with the coffee syrup. Spread about 1/3 of the filling mixture over top of the first cake layer. Sprinkle top of filling with half of the grated chocolate.
Carefully place the remaining cake layer, cut side-up, on top of the filling-topped cake layer. Brush generously with the remaining coffee syrup, you may have just a little leftover. Spread the remaining frosting/filling over top and sides, smooth out evenly.
Sprinkle top of cake with remaining grated chocolate and refrigerate for 1 to 2 hours before serving, if you can wait 😉 .
Serves 12+.