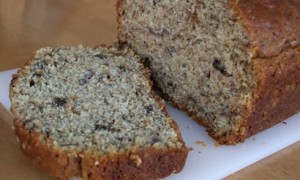 Sourdough enhances baked goods for even better nutrition. So it makes sense to use this lost art of baking to make a lovely, tasty loaf of spiced banana bread. Chia seeds add a little crunch and a healthy boost of omega 3s.

This bread is so moist, with the sweet taste of bananas and a hint of cinnamon and nutmeg. Serve each slice however you like, plain, with some real butter or whipped cream cheese on top and you have a great snack or dessert even. NOTE: When the weather turns cool and the holidays grow near try using pumpkin puree in-place of the banana for a delicious treat.

Sourdough Banana or Pumpkin Spice Bread
This moist flavorful loaf of banana (or pumpkin) bread is easy to make using the traditional method of sourdough baking. Enjoy a great tasting treat that is not only healthy and packed with nutrition, but low in gluten as well.
Ingredients
1½ cups sourdough starter, previously fed
1 cup whole spelt flour
⅓ cup butter or coconut oil, melted and cooled
1 large egg, beaten
½ cups rapadura / sucanat sugar
¼ teaspoon natural pure stevia powder, optional (if not using, increase sugar to 1 cup)
½ teaspoon ground cinnamon
¼ teaspoon ground nutmeg
1 teaspoon unrefined sea salt
1 teaspoon baking soda
1 cup very ripe banana, mashed (2 large or 3 small) OR 1 cup pumpkin puree (canned or homemade)
½ cup walnuts, chopped
Extra Add-In* - 2 Tablespoons dry chia seeds, for a boost of omega 3s and little crunch (optional)
Instructions
5 to 8 hours before you want to bake the bread: In a large mixing bowl, combine the sourdough starter and spelt flour to form a slightly sticky, but smooth soft ball of dough. Cover bowl loosely with plastic wrap or a kitchen towel. Leave at room temperature for about 8 hours, a little less if the room is really warm.
8 hours later, baking the bread: In a medium bowl whisk together the melted butter (or coconut oil), egg, sugar, stevia (if using), cinnamon, nutmeg, and salt.
Add this butter-sugar mixture to the large mixing bowl of "soaking" sourdough. Fold in until thoroughly mixed.
Fold in the mashed banana (or pumpkin puree) - followed by the baking soda, walnuts, and chia seeds (if using). Fold in until combined.
Preheat oven to 350°F. Grease a 9x5-inch loaf pan with coconut oil.
Pour the batter into the prepared pan. Set the filled loaf pan aside for 20 minutes.
Place pan in preheated oven and bake for 60 minutes, or until a toothpick inserted into the middle of the loaf comes out clean. If the loaf top is getting too brown in the middle of baking, you may cover it loosely with aluminum foil. Allow the bread to cool for 15 minutes in pan. Remove and allow the bread to cool completely....or almost completely. (If not mostly cooled before slicing, the bread will fall apart......it is very moist.)
Notes
Makes 1 9x5-inch loaf.

Email To A Friend