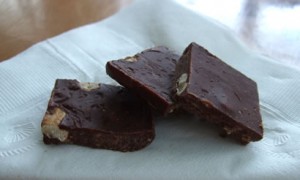 This fudge is a great treat for all you chocolate lovers out there who are on the healing diet, or just those watching your sugar intake. You may use whatever nuts you prefer, or omit them if you wish. If you are not on a sugar-restricted diet, feel free to sweeten this fudge with about 1 to 2 Tablespoons of raw honey instead of stevia.
1/2 cup coconut cream concentrate (I use Tropical Traditions brand)
1/2 teaspoon extra-virgin coconut oil, melted and cooled
1/4 cup unsweetened cocoa powder
1/8 to 1/4 teaspoon NuNaturals NuStevia™ White Stevia™ Powder (or other brand of stevia powder or liquid, to taste)
1 teaspoon vanilla extract
dash of unrefined sea salt
1/8 cup chopped nuts of your choice (I like walnuts)
Place the first 6 ingredients (everything except the nuts) in the container of a food processor. Process for 20 to 30 seconds. Scrape down the sides of the food processor container, and process again another 20 to 30 seconds or until thoroughly mixed. Fold in the nuts with a spatula, if using.
Line a 9×5-inch loaf pan with plastic wrap; make sure the plastic wrap is long enough so it hangs over the sides. Pour the fudge mixture into the lined pan and spread out so it completely covers the bottom. Refrigerate for at least 1 to 2 hours, or until well-chilled and very firm.
Remove from the pan by lifting up on the plastic wrap. Cut into 1-inch pieces of bark. Store in an air-tight container in the refrigerator.
Makes approx. 21, 1-inch pieces of bark (fudge).
*Sugar-Free / Grain-Free

Email To A Friend

Print This Page