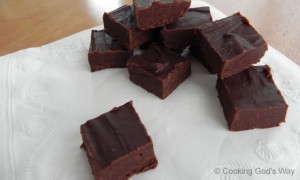 Chocolate and Peanut Butter go together so well…and they happen to be one of my favorite flavor combination's. This fudge is really easy to make  and tastes delicious. You won't even miss the traditional, sickeningly sweet, fudge so common place during the holidays!
Wow your friends and relatives with this yummy (and healthy) candy! Or just enjoy it yourself 😉
NOTE: This fudge will be around 1/2-inch thick. If you want thicker fudge, double recipe but use the same-sized pan.
1/4 cup Creamy (Smooth) Valencia Peanut Butter, any brand
1/4 cup Coconut Butter (if in a solid state – see below)
1 Tablespoon butter (or coconut oil for a dairy-free option)
1/2 cup raw cacao powder or unsweetened chocolate powder
6 Tablespoons real maple syrup, though you could give honey a try
pinch (1/16 tsp.) unrefined sea salt
Softening Hard Coconut Butter

If Coconut Butter is in a solid state follow these instructions first.

Place jar of coconut butter (with lid off) in a small saucepan filled with a little water. Water should come about half way up the sides of jar.
Heat over low-medium heat until coconut butter starts to melt. Carefully stir and break up the coconut butter in the jar.
Once partially melted, turn off heat but leave pan on the burner. Continue stirring until completely melted and mixed together.

Proceed with recipe.
Line a regular (9×5-inch) loaf pan with plastic wrap. Set aside.
In a small saucepan over very low heat, melt peanut butter, coconut butter, and butter (or coconut oil).
Stir in maple syrup, cocoa powder, and salt until dissolved. (Mixture will probably be a little thick.)
Working quickly, remove from heat and pour/scrape mixture into prepared pan. Smooth out evenly across pan.
Carefully place in refrigerator to chill for at least a couple of hours to firm up. (Can be eaten at anytime after firm and chilled.)
To cut, lift out of loaf pan by pulling up on edges of plastic wrap, allow to warm up just a minute or two and cut into desired-sized pieces.
Transfer to a plate and store cut pieces in fridge until ready to eat. (If left out too long in a warm room the pieces will begin to melt and eventually become a gooey mess. So be sure to keep the fudge chilled.)
Serves 12+