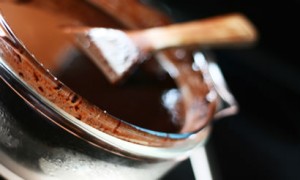 This "hot" fudge sauce is a delicious treat that has many uses. It can be used straight from the refrigerator as a creamy, thick fudge spread; or warmed gently on the stove for a delectable sauce that you can drizzle over cakes, ice cream and more!
6 Tablespoons butter
6 Tablespoons virgin coconut oil
4 to 6 Tablespoons raw honey
1/4 cup unsweetened cocoa powder
1/4 to 1/2 teaspoon ground cinnamon (optional – but gives it that delicious Mayan chocolate flavor)
2 teaspoons vanilla extract
1 teaspoon pure chocolate extract, optional
pinch sea salt
In a small saucepan melt the butter, coconut oil, and honey over medium heat. Turn heat to low and add the cocoa powder, cinnamon (if using), vanilla extract , chocolate extract, and salt; mix until thoroughly combined.
Place the sauce in a small jar or container with a lid. Store in the refrigerator. The sauce will be thick and spreadable from the refrigerator; but for a yummy, drizzle-able, "hot" fudge sauce, just reheat on low in a small sauce pan.
Makes 1 1/4 cup sauce.