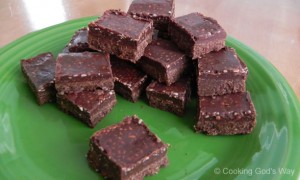 Fudge is a favorite "sweet" treat around the holidays. But, lets face it…it is just absolutely loaded with sugar – so it's not very good for you, to say the least. How about a much healthier option that is still 100% deliciously addictive and as a bonus you get all the wonderful benefits of coconut oil as well. I'd say that's a win-win to me! 🙂
NOTE: If you like thicker pieces of fudge, simply double this recipe but make in the same-sized pan. (As is, when made in a regular loaf pan, it makes pieces about 1/2-inch thick.) Feel free to experiment with your favorite add-ins. I used 2 Tablespoons of lightly toasted sesame seeds, pulsed in a food processor to break them up, for a yummy Nestle Crunch Bar style fudge. Yummm!!!

1/2 cup Virgin Coconut oil
2 Tablespoons butter
1/2 cup unsweetened cocoa powder (I used Raw Cacao Powder)
1/2 cup Coconut Palm Sugar (or rapadura / sucanat) NOTE: Granulated sweeteners are no longer recommended in this recipe due to issues with dissolving.
OR 6 to 8 Tablespoons Maple Syrup or Coconut Palm Syrup (Coconut Nectar)
dash (1/8 tsp.) unrefined sea salt
1 teaspoon vanilla extract
Some Options for Add-ins:
– Sesame seeds, toasted and pulsed in a food processor
– Walnuts, chopped
– Pecans, chopped
– Dried Fruit – such as raisins, cherries, etc.
Line a regular (9×5-inch) loaf pan with plastic wrap. Set aside.
In a small saucepan over very low heat, melt coconut oil and butter.
Stir in sweetener, cocoa powder, and salt until well mixed and dissolved.
Remove from heat and allow to cool for a couple of minutes.
Stir in vanilla and any add-ins.
Pour melted oil mixture into prepared pan.
Carefully place in refrigerator to chill for at least a couple of hours to firm up. (Can be eaten at anytime after firm and chilled.)
To cut, lift out of loaf pan by pulling up on edges of plastic wrap, allow to warm up just a minute or two and cut into desired-sized pieces.
Transfer to a plate and store cut pieces in fridge until ready to eat. (If left out long in a warm room the pieces will melt and be a gooey mess.)
Serves 12+


Email To A Friend

Print This Page