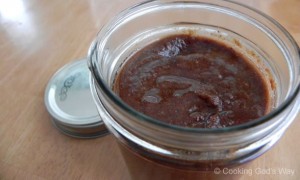 Chocolate hazelnut spread is easy to make at home and tastes far better than the common store-bought variety (Nutella®). What's more is that you can avoid the excess sugar and other ingredients that you don't need. Let's take a look at those ingredients, found on the Nutella® website — sugar, palm oil, hazelnuts, cocoa, skim milk, reduced minerals whey (milk), lecithin as emulsifier (soy), vanillin: an artificial flavor.
This homemade chocolate hazelnut spread uses just six ingredients, and sugar is not at the top of the list. It's one spread that you can feel happy about feeding to your family. It's truly natural! 🙂

3 cups raw shelled hazelnuts
1/2 teaspoon unrefined sea salt
3 Tablespoons expeller-pressed sunflower oil
OR virgin coconut oil* (see note below)
3 Tablespoons unsweetened cocoa powder
2 to 3 Tablespoons honey, to taste
1 Tablespoon vanilla extract
Roast the hazelnuts on a large baking sheet at 325° for 10 to 12 minutes, until nicely toasted — they should darken a bit and smell fragrant.
Place warm hazelnuts in-between a towel and rub off as much of the skins that you can (don't worry if you can't get them all).
Add hazelnuts to a food processor, processing until a coarse meal.
Add in salt and continue processing until a thick butter-like paste is formed — about 3 minutes, scraping the sides as needed.
With machine running add in oil 1 Tablespoon at a time. Continue processing until mixture resembles a smooth butter.
Add the cocoa, honey, and vanilla — continue processing until smooth and liquefied, this may take 1 to 2 minutes more.
Transfer hazelnut spread to a glass jar and store in the refrigerator.
*Note: If you used coconut oil in the spread, you may need to bring the spread to room temperature before to serving.
Makes 1-Pint.