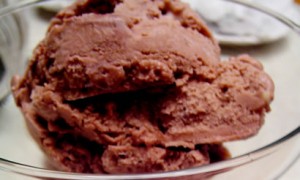 Who doesn't love ice cream….and homemade ice cream at that? This chocolate ice cream is no exception….it is creamy and chocolaty with just the right sweetness. For extra yumminess add some raw cacao nibs during the last few minutes of churning; or for a Mayan Chocolate treat add a touch of cinnamon with the cocoa powder.
1 cup milk
1 Tablespoon arrowroot powder
1/2 cup pure real maple syrup
1/4 teaspoon salt
2 Tablespoons unsweetened cocoa powder
3 egg yolks
2 ounces unsweetened chocolate bar (baking chocolate), coarsely chopped
2 cups heavy cream
1 teaspoon vanilla extract
Add milk to a 1-1/2 quart saucepan, mix in arrowroot with a fork or small whisk until no lumps remain. Add maple syrup, salt, and cocoa powder; heat over medium heat whisking continuously. When no cocoa powder remains visible, and mixture is steaming, turn off burner.
Place egg yolks in a small bowl and beat lightly. Gradually stir in 1/4 cup of the hot chocolate mixture 1 tablespoon at a time, stirring well after each addition. Pour this egg yolk-chocolate mixture back into the pan with the rest of the chocolate. Stir well to combine. Turn burner back on low and heat chocolate-egg mixture until thickened slightly, about 5 to 7 minutes, making sure to stir often. Do not let it come to a boil.
Remove from heat and stir in chopped chocolate until completely melted. Pour chocolate mixture into a large bowl and refrigerate until well chilled, about 2 hours.
Remove the chilled chocolate mixture from the fridge. Stir in the cream and then vanilla until mixed thoroughly. Transfer to an ice cream maker and freeze according the manufacture's instructions. In my Cuisinart 1-1/2 Quart Ice Cream Maker
it takes about 20 to 25 minutes. You can serve right away if you like soft-serve consistency, or place in a freezer-safe container with a lid and freeze for at least 2 hours or until desired firmness.
Makes about 1 1/2 quarts.
Optional Add-Ins: Try adding one or all of the following for an extra treat. Add either one, or both, during the last few minutes of churning.
2 Tablespoons Rum (to keep the ice cream softer in the freezer and much easier to scoop)
1/4 cup raw cacao nibs

Email To A Friend

Print This Page