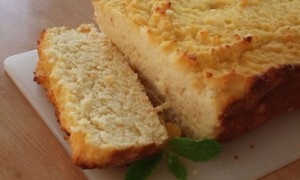 This coconut flour pound cake recipe is wonderfully delicate and moist. The grapefruit juice and yogurt combined really gives the cake a sweet, yet tart flavor. It would be just as delicious with lemon, lime, or orange juice/zest. If you are not on a sugar-free diet, feel free to sweeten this with some raw honey in place of the stevia.
5 eggs
1/2 tsp vanilla
1 cup whole milk yogurt
1/4 tsp salt
2/3 cup freshly squeezed grapefruit juice
zest of 1 large grapefruit (about 3 tsp)
1/2 cup (1 stick) butter, melted
1 1/2 tsp baking powder
1/2 tsp baking soda
1 cup coconut flour, sifted
Preheat oven to 350°F. Grease a 9×5-inch loaf pan with coconut oil, line the bottom of the loaf pan with parchment paper. Grease, with coconut oil, and flour the pan using coconut flour.
In a large bowl beat the eggs with a wire whisk; next add the vanilla, yogurt, salt, and grapefruit juice and zest, mix until combined. Add the melted butter in a constant stream, mixing continuously.
Using a spoon or spatula fold in the dry ingredients to the wet – baking powder, baking soda, stevia powder, and sifted coconut flour. Mix well after each addition.
Bake for 45 to 55 minutes, until a toothpick inserted in the center of cake comes out clean. Let cake cool for 5 minutes in pan. Invert on a cooling rack and let cool completely……if you can wait that long 🙂
Makes 1 loaf.
*Sugar-Free / Grain-Free

Email To A Friend

Print This Page