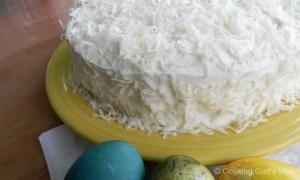 This coconut cake is very moist and full of coconut flavor. Perfect for Easter Day when topped with a generous layer of "Fluffy" Buttery Cream-Cheese Frosting and sprinkled with shredded coconut on top. Yummm!
2 1/2 cups whole wheat pastry flour
OR spelt flour
1 cup full-fat coconut milk
1 cup filtered water (or for a richer cake, use another cup of coconut milk)
2 Tablespoons raw apple cider vinegar
1 cup Rapadura or Sucanat
2/3 cup butter or coconut oil, melted
2 large eggs
1 Tablespoon vanilla extract
1 teaspoon unrefined sea salt
1 1/2 teaspoons baking powder
1/2 teaspoon baking soda
1/4 cup coconut flour, sifted
8 to 12 hours before you want to make the cake: Combine the whole wheat pastry flour (or spelt) with the coconut milk, water, and vinegar in a large mixing bowl. Mix well until thoroughly moistened. Cover bowl with a kitchen towel and/or plastic wrap. Set aside to "soak" at room temperature for 8+ hours (12 or more is even better).
After "soaking" period – making the cake: Preheat oven to 350F. Grease and lightly flour to 8 or 9-inch cake pans. Set aside.
In a large mixing bowl, using a hand-held or stand mixer, beat the eggs – followed by the sugar, oil, vanilla, salt, baking powder, baking soda, and coconut flour.
Add the "soaked" flour batter to the mixing bowl and beat well until thoroughly combined.
Divide batter between the two baking pans. Gently tap pans on the counter to remove air bubbles.
Bake in preheated oven for about 30 minutes, until a toothpick inserted in the center of cakes come out clean.
Transfer pans to cooling rack for 10 minutes.
Gently turn over pans and transfer cakes directly to cooling racks to cool completely before frosting.
Frost with "Fluffy" Buttery Cream Cheese Frosting or your favorite frosting and top with shredded coconut if desired.
Serves 12 to 16.