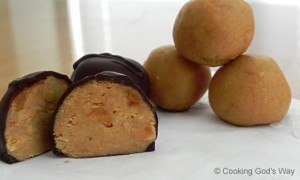 These peanut-butter balls are indeed a healthy treat, especially for those avoiding or limiting their sugar intake. They are very filling due to the high-fiber content of the coconut flour. When coated in chocolate they are even more scrumptious and harder to resist.

2/3 cup homemade or natural peanut butter, smooth or crunchy
1/4 to 1/2 cup coconut flour, as needed
2 Tablespoons honey
OR several drops of liquid stevia for sugar-free*
Chocolate-Coating, if desired (see recipe below)
Mix peanut butter and honey (or stevia) with coconut flour, using just enough flour to form a firm "dough" that holds together.
Roll into 1-inch balls and place in freezer for several minutes to firm up. Dip in chocolate if desired (see recipe below), then freeze again until chocolate is hardened.
Store peanut butter balls in fridge or freezer, as desired.
Makes 12 to 16.
* Sugar-Free / Grain-Free
Chocolate-Coating

Melt the coconut oil and chocolate in a double-boiler. Add honey (or stevia for sugar-free*) until desired sweetness is reached; stir in vanilla extract.

Dip peanut butter balls in chocolate, gently swirling around with a spoon to coat. Then using a fork remove chocolate coated peanut butter ball. (Do not pierce the ball, but just gently lift out of the chocolate letting the excess chocolate drip off.) Follow remaining instructions in the recipe above.

Email To A Friend

Print This Page