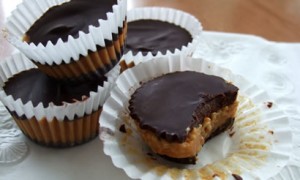 Peanut Butter Cups are were my favorite candy, and I thought that I could never eat them again…..until now! These nut butter cups are easy to make and are a fabulous treat. Made with raw honey and great-for-you coconut oil, you can feel good about eating this candy 🙂 I make these peanut butter cups in small batches so I won't be tempted to eat too many; and also so the melted chocolate mixture stays fresh, smooth, and creamy throughout the layering process. So with that said, if you want to double the recipe, feel free. But I would suggest that you do the melted chocolate in separate batches…when one batch runs out.

Peanut Butter Filling
Chocolate Coating
Plave 12 mini-muffin/cupcake paper liners on a small plate or tray. Set this aside.
Gently melt honey and coconut oil together over a low heat; mix with nut butter. Add the almond meal (or other ground nuts) to the nut butter mixture, 1 Tbsp. at a time, until desired thickness. Season to taste with a little sea salt and set aside.
Melt the coconut oil and chocolate in a double-boiler. Add honey to desired sweetness is reached; stir in vanilla.
Using a small teaspoon, drop a little of the chocolate mixture into the bottom of the paper cupcake liners to coat. (I didn't bother, but if you wish you can rotate the paper liners to allow the melted chocolate to coat the sides.) Immediately place the plate of chocolate-lined papers into the freezer to harden for a few minutes.
When the chocolate looks solid, remove the plate from freezer and spoon desired mount of peanut butter filling on top of the chocolate layer. Again place back in the freezer to firm up slightly. (The filling will not get as solid as the chocolate, but we want it to be slightly firm so that the final layer of chocolate will not melt right into the peanut butter filling.)
Spoon the final, top layer of chocolate on top the the peanut butter filling. Place back in freezer to firm up completely, 30 minutes or more. After this you may store these in the fridge. When serving, remove from the refrigerator a couple minutes before…but not to long or they will melt.
Makes 1-dozen Mini Nut Butter Cups.