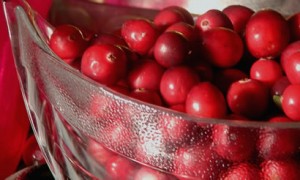 This cranberry-vanilla syrup is great over pancakes, ice cream, etc. I love it with pumpkin pancakes at Thanksgiving & Christmas time….it's soooooo delicious! This recipe is easily doubled if needed.
1/2 cup pure maple syrup (organic), Grade B is best
1/4 cup fresh or frozen cranberries, chopped into quarters
(if using frozen cranberries, simply run them under cool water until thawed enough to cut…which won't take long)
1 teaspoon vanilla extract
Place maple syrup and cranberries in a small saucepan. Bring to a boil over medium-high heat, stirring occasionally. Let boil for about 1 to 2 minutes, or until cranberries are softened. Remove from heat and add vanilla extract. Serve immediately.
Makes 1/2 cup.