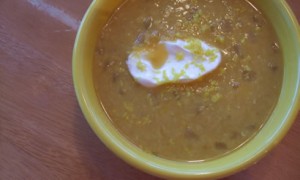 This lentil soup is so simple to make, doesn't require a lot of prep-work, includes minimal ingredients……..but is oh-so-tasty! And you can use your favorite type of lentil, or whatever lentils you have on hand – though cooking time may vary.
4 cups chicken broth
1/2 cup onion, chopped
1/4 teaspoon garlic powder
1 1/4 cup lentils (any kind of lentil you choose, I like to use red most of the time…unless I'm out)
1/4 teaspoon paprika
pinch of cayenne, to taste
salt, to taste
2 to 4 Tablespoons lemon juice, to taste
sour cream, for garnish
lemon zest, for garnish
Add chicken broth to a 2-quart (or larger) saucepan with onion and garlic powder. Bring to a boil over medium heat.
Add lentils, stir to combine, and bring back to a boil. Cover, reduce heat and simmer 20 to 30 minutes, or until the lentils are cooked through and very tender.
Add the paprika and cayenne; season to taste with salt and lemon juice.
Garnish each serving with a dollop of sour cream and a sprinkle of lemon zest.
Serves 4.
*Sugar-Free / Grain-Free

Email To A Friend

Print This Page