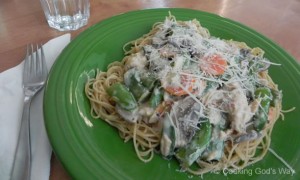 This delicious meal is quick and easy to prepare, making it perfect for those occasions when you want to make a good dinner for your family but are strapped for time. It's filled with lots of veggies in a scrumptious creamy sauce that even picky eaters will want to gobble up. One family member that is not so fond of salmon ate this meal and did not even realize it had salmon in it… until I told them at the end.
This easy meal is great with a variety of vegetables, so feel free to use whatever veggies you happen to have on hand in this recipe.
2 cups sugar snap peas, cut into 1-inch pieces
2 cups sliced mushrooms
1 large carrot, peeled and thinly sliced
1/2 small onion, chopped
1 to 2 cloves garlic, minced
2 Tablespoons butter or ghee
4 ounces cream cheese, cut into cubes
1/4 cup grated Parmesan or Romano cheese, plus more for garnishing each serving
1/4 cup raw whole milk, plus more as needed
1 teaspoon dried oregano
unrefined sea salt and white pepper, to taste
1 can (6 ounces) Alaskan Salmon, drained
To Serve: Whole Wheat Pasta – Capellini or Spaghetti, cooked al dente
Place butter or ghee in a large skillet, heat over medium until melted. Add in all veggies along with the garlic and saute until tender. (Meanwhile have pasta cooking.)
Add cubed cream cheese and parmesan cheese to the pan, stirring to melt. Thin the mixture with 1/4 cup of milk, adding more as needed to reach desired consistency.
Add oregano and season sauce to taste with salt and white pepper.
Flake the drained salmon into pan and gently mix with the veggies and sauce.
Serve veggie-salmon sauce immediately over cooked whole wheat pasta with a garnish of parmesan cheese on top and a lovely side salad.
Serves 4.