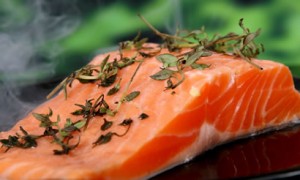 This salmon is easy to prepare and tastes great. One picky eater in my family, who doesn't care to eat salmon very often, actually enjoys it when prepared this way. I usually serve it with a little brown rice that has been cooked in broth and seasoned with a pinch of ground ginger, and a side of cucumber-radish salad.
4 individual Alaskan salmon fillets (thawed if from frozen)
cold-pressed sesame oil (

not

toasted)
OR virgin coconut oil
sea salt, to taste
Bragg Sea Kelp Delight Seasoning, to taste
1/2 cup soy sauce substitute
1 teaspoon arrowroot powder
toasted sesame seeds (about 2 teaspoons)
Check salmon fillets for bones, removing if you find any (a clean pair of tweezers work great to pull them out).
Season tops of salmon fillets with a little sea salt and a generous sprinkle of Bragg Sea Kelp Delight Seasoning, set aside.
In a large skillet over medium heat, drizzle just a light amount of sesame oil to coat pan. When pan is hot, but not smoking, add fillets skin-side up (which would be seasoned-side down).
Cook for about 5 minutes, or until cooked about halfway through. Meanwhile, prepare the glaze…
Prepare the Glaze: In a small saucepan, whisk 1/2 cup soy sauce substitute with 1 teaspoon arrowroot powder together until no lumps remain. Heat over medium-high heat until bubbly and thickened.  Turn off heat, but leave on burner to keep warm.
When fillets are cooked halfway through, flip them over and cook for about 5 more minutes, or until finished cooking.
Remove salmon fillets from pan with a thin spatula, the skin should remain in the pan if you do it just right.
To serve, drizzle a Tablespoon or two of the glaze on top of each fillet, followed by a sprinkling of toasted sesame seeds.
Serves 4.