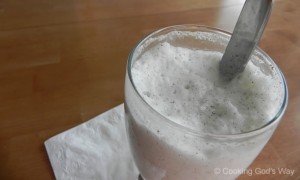 This frozen-frothy drink is quite similar to the very popular "Vanilla Bean" drink available at that famous coffee shop…you know the one that's on just about every corner and even located in many supermarkets. This version though, in my opinion is much BETTER 🙂 Did you know the famous coffee shop version has a whopping 56g of sugar? Yikes!!!
This drink is made with wonderful Raw Milk and real vanilla beans AND it's also sugar-free! What a plus+! If you prefer, you can make this shake with coconut milk for a very filling, stay with you, drink that is loaded with the wonderful properties of coconut.
Add ingredients, in the order listed, in container of your blender.
Blend on high until thoroughly mixed and ice is crushed. Drink will be frothy/fluffy.
Serve immediately in a tall glass. (For a special treat, top with some homemade whipped cream.)
Serves 1.
*Sugar-Free / Grain-Free
1/2 teaspoon vanilla bean powder =
1 teaspoon vanilla extract OR 1 vanilla bean