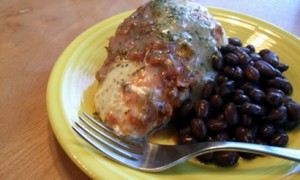 These chicken chili roll-ups are very rich and satisfying. The degree of spicy-ness depends on the chili's used. Making sure to rinse the chili's well, scrape out all seeds, and cut out all membranes will remove most of the heat. Anaheim chili's are my favorite chili to use for these chicken roll-ups, they are a very mild chili and go great in this recipe. Poblano chili's are another mild chili that would work well in this recipe as well. My kids enjoy this meal served with black beans and a little dollop of sour cream on the side.
virgin coconut oil
4 ounces cream cheese, softened
1/4 cup finely chopped, fresh roasted-peeled mild green chili's (such as anaheim's or poblano's)
2 large boneless-skinless chicken breasts (1 pound total), cut each into two pieces (for 4 total) and pound to 1/4-inch thickness
3/4 to 1 cup cup prepared organic salsa (with no sugar added)
1 cup shredded, raw or organic cheddar cheese
sea salt and pepper, to taste
Preheat oven to 425°F. Grease a rectangular glass baking dish with coconut oil. Set aside.
To roast peppers, place them in your oven, directly under the broiler. Broil for about 10 minutes per side, place in a heavy-duty plastic bag and seal. Let sit for a few minutes, then peel the peppers under cool running water…the skin should come off easily. Scrape out the seeds and cut out the membranes of the peppers, chop the peppers finely.
Mix together the chopped peppers and softened cream cheese. Season to taste with a little sea salt and pepper.
If you haven't already done so, pound the chicken with a smooth meat mallet to 1/4-inch thick. Place a spoonful of the cream cheese mixture in the center of each piece of chicken. Use up all of the cream cheese mixture. Roll up each piece of chicken and place in the baking dish, seam-side down.
Sprinkle chicken roll-ups with salt and pepper. Pour desired amount of salsa evenly over-top of chicken. Cover baking dish with aluminum foil and bake for 20 minutes, or until chicken in cooked through (165°F).
Remove foil, top with shredded cheddar cheese, and continue to bake 'uncovered' until the cheese is melted, about 3 to 5 minutes more.
Serve with a side of black beans and some sour cream, if desired.
Serves 4.
*Sugar-Free / Grain-Free