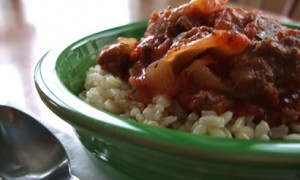 Growing up my Mom would make stuffed cabbage…little rolls of cabbage with a ground beef/rice mixture tucked inside and a yummy tomato sauce poured over top. It was one of my favorite meals as a kid. This is my take on a quicker/easier way to get that same deliciousness. Just put everything in a crock-pot and allow it to cook slowly, letting the flavors meld together, gently. It is sooooo good, especially if you serve it over some hot cooked brown rice. Tastes just like Mom's…only easier 🙂
1 1/2 pounds grass-fed ground beef
1 medium onion, chopped
1 green bell pepper, chopped
1 head cabbage, chopped (about 1 1/2 pounds)
2 cans (15 oz. each) diced tomatoes, undrained
1 can (6 ounces) tomato paste + 2 cans filtered water
1 Teaspoon raw apple-cider vinegar
1/2 teaspoon garlic powder
1 teaspoon dried thyme
1 teaspoon oregano
1/2 teaspoon paprika
pinch red pepper flakes (optional)
salt and pepper, to taste
1 Tablespoon butter
hot cooked brown rice, for serving (if

not

on the Healing Diet)
In a medium bowl, mix together canned diced tomatoes, tomato paste, and 2 cans filtered water (12 oz. total). Stir in vinegar, garlic powder, thyme, oregano, paprika, red pepper flakes and a pinch of salt/pepper. Set aside.
In a large skillet, brown the ground beef. Place chopped onion on the bottom of a 5 to 6-quart crockpot. Layer browned ground beef on top, followed by the chopped bell pepper. On top of this, layer the chopped cabbage, squishing down if necessary (don't be alarmed….it will cook down.) Pour the tomato sauce over top of all.
Cover and cook on low 6 to 8 hours.
Add in 1 Tbsp. butter and stir until melted in (the butter helps cut the acidity without adding sugar). Season to taste with salt and pepper. Serve as is in a bowl, or over some hot cooked brown rice (if NOT on the Healing Diet).
Serves 10 to 12.
*Sugar-Free / Grain-Free