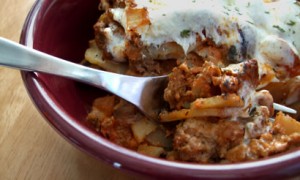 This casserole is so hearty and filling, it is just the kind of meal that my husband loves….meat and potatoes. Serve this with a simple side salad drizzled with olive oil and balsamic vinegar. This casserole can also be cooked in the crock pot if you have a busy day ahead…simply follow the crock pot/slow cooker instructions.
Sauce
1 can (15 oz.) tomato sauce
1/2 cup organic sour cream
1/2 cup heavy cream
1 teaspoon minced garlic
2 teaspoons dried oregano
1 Tablespoon dried basil
1/4 teaspoon red pepper flakes, or more to taste
salt and pepper, to taste
Filling
1 1/2 pounds grass-fed ground beef
1 medium onion, chopped
1 green or red bell pepper, chopped
1 cup fresh mushrooms, sliced
2 teaspoons minced garlic
salt and pepper, to taste
3 to 4 medium potatoes (1 1/2 to 2 pounds), thinly sliced to 1/8-inch (A Mandolin Slicer works great, see note below*)
1/2 pound whole mozzarella cheese, cut into slices
freshly chopped parsley, for garnishing top (optional)
Preheat oven to 350F. Grease a large, 3-Quart Baking Dish
or Casserole Dish
. Set aside.
In a medium bowl mix together all of the sauce ingredients. Set aside.
Heat 1 Tablespoon coconut oil in a large skillet over medium-high heat. Add beef, onion, bell pepper, mushrooms, and 2 teaspoons minced garlic; cook until beef is no longer pink. Drain off any excess grease and season to taste with salt and pepper. Add the beef mixture to the bowl of prepared sauce and mix together. Season to taste with more red pepper flakes and/or salt and pepper if needed.
Spread 1/3 of the meat-sauce on the bottom of the prepared casserole dish. Top with 1/2 of the sliced potatoes, place in an even layer. Follow with 1/2 of the remaining meat-sauce and then top with the remaining potatoes. Top this last layer of potatoes with the remaining meat-sauce.
Cover casserole dish with lid, or aluminum foil. Bake in preheated oven for 1 hour. Remove cover and bake for 20 to 30 minutes more, or until potatoes are tender. Top with the sliced mozzarella cheese and leave in oven until cheese is melted, about 5 minutes. Remove from oven, sprinkle top with freshly chopped parsley, and let a few minutes before serving.
Serves 6.
*Note: Mandolin Slicers
are great for making consistent, even, thin slices. Just be careful when using a mandolin…ALWAYS use the guard that it comes with, the blades can be very sharp.
Crock Pot/Slow Cooker Instructions: Follow all instructions as stated above. Simply layer in crock pot (instead of casserole dish) and cook, covered, on low 4 to 6 hours until potatoes are tender. Once potatoes are tender and mixture is bubbly; place sliced mozzarella cheese on top of casserole, cover, and let cook until melted. Sprinkle with chopped parsley, if desired.

Email To A Friend

Print This Page