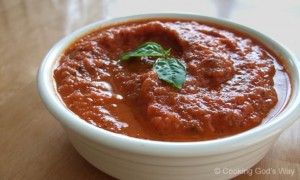 This recipe makes enough spaghetti sauce to last for several meals. It's so easy to put together in the crock-pot. One thing that I love about this spaghetti sauce is that it freezes very well – making for quick "easy" meals in the future.
To make a spaghetti sauce with meat, simply cook some meat and add it to a portion of this sauce when heating it up….easy peasy 😉

3 cans (28 oz. each) organic diced tomatoes
OR 6 cans (14.5 oz. each) organic diced tomatoes
1 can (6 oz.) organic tomato paste
1 cup filtered water
4 to 6 carrots, peeled and diced
1 large onion, diced
6 to 8 cloves garlic, minced
4 Tablespoons dried basil leaves
2 Tablespoons dried oregano leaves
1/4 to 1/2 teaspoon red pepper flakes
1/2 cup extra-virgin olive oil
1 cup grated Parmesan or Romano cheese, optional
unrefined sea salt and black pepper, to taste
Place canned tomatoes, along with their juice, in a large 5 to 6 quart crock-pot. Add in tomato paste and water, stirring to mix.
Place chopped carrots, onion, garlic, basil, oregano, and red pepper flakes into crock pot. Stir all together to combine.
Place lid on crock pot, leaving it cracked slightly to allow steam to escape. Turn on high and allow to cook for 6 to 8 hours.
Remove lid and puree sauce with a stick blender until desired consistency in achieved.
Stir in olive oil and cheese (if using); season sauce to taste with salt and pepper.
Use sauce as you would any spaghetti sauce.
This sauce freezes very well and will last for several months this way, if sealed properly. (I freeze in 3-cup increments, see why below.)


When serving, I usually cook 1 1/2 pounds of ground beef then add in 3 cups of sauce, heat and serve with whole wheat pasta (sometimes homemade). This feeds my family of 4 with a small amount of left-overs.

Makes about 12-cups.