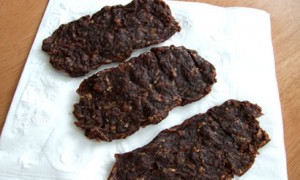 Beef jerky makes a great snack and is a good source of protein. The only problem is just about all of the jerky you'll find in stores are made with nasty ingredients and low quality meat. This beef jerky is a cinch to make at home with a jerky gun
and a food dehydrator
….both of which are fairly in-expensive and are a great investment. You can adjust the seasonings in this jerky easily to fit your tastes at the time.
1 1/2 pounds grass-fed ground beef
1 teaspoon sea salt
2 teaspoons chili powder
2 teaspoons ground cumin
1/2 teaspoon garlic powder
1/4 teaspoon onion powder
pinch cayenne pepper
NOTE: In this recipe you will need a jerky gun and a food dehydrator. If you buy a jerky gun and it comes with seasoning packets, just throw them out…as they are filled with all sorts of bad ingredients.
Place all the ingredients in a large mixing bowl; mix together until completely incorporated. It is easiest to use a pair of clean hands for this step.
Transfer the meat mixture to your jerky gun. Use jerky gun, with even pressure, squeeze out strips of jerky directly onto the racks of your dehydrator….be sure to leave some space around the strips of meat and that they are not touching. Make the strips as long as you would like, you can always cut them up with kitchen shears later if you'd like. Continue until you use up all of the meat mixture.
Set your dehydrator to 150F and allow to dry (cook) for 4 to 12 hours (times vary widely, due to thickness of meat, the dehydrator, humidity, etc.). After a couple of ours in the dehydrator, blot any pooling oil with paper towels and flip the jerky over.
When jerky is done, it should be dry, "cooked" all the way through…no longer pink, but still slightly soft (as the jerky will harden up quite a bit as it cools).
Remove "cooked" jerky from the dehydrator and roll up, in a single layer in paper towels to cool. This will pull out any excess oil/fat on the surface, which would make the jerky go rancid quickly.
Place completely cooled jerky in an air-tight container in a cool dark place (removing and discarding paper towels). If you're not going to use the jerky up within 2 weeks, place in the refrigerator. This is where I put mine anyway, just to make sure it I don't forget about it…but we never do, it always gets eaten up too quickly 🙂
Makes 24 to 48 snack-sized servings.
*Sugar-Free / Grain-Free