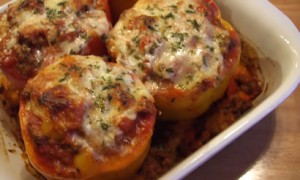 These stuffed peppers may not seem like a lot when you look at them, but they are incredibly filling……..oh and they taste really good too 🙂 There are filled with a beefy-cheesy tomato sauce mixture that is so good you'll want to eat it up even before you fill the peppers. Serve these with a very simple side salad of mixed spring green lettuce, drizzled with extra-virgin olive oil and balsamic vinegar. Delicious!
4 large bell peppers, any color
1 pound grass-fed ground beef
favorite seasonings for beef, such as: 1 tsp. fennel seed, 1 tsp. oregano, 1/2 tsp. basil, a pinch of crushed red pepper flakes, and a dash of salt (but feel free to use you own favorite seasonings)
1/2 cup onion, diced
1/2 cup bell pepper, diced small (from the cut-off tops of the peppers)
olive oil
coconut oil
salt and pepper, to taste
1/2 pound fresh mozzarella cheese, cut into small cubes
1/4 cup grated parmesan cheese, plus a little more for sprinkling the tops
1 can (15 ounces) tomato sauce
Preheat oven 375°F. Generously coat a square baking dish, preferably glass or ceramic, with coconut oil. Set aside.
Wash and dry the peppers. Cut off the tops of the peppers, dice the tops small, and throw away the stem. Set aside the diced pepper from the tops for later use. Scrape out the inside of the peppers and rinse/dry them. Set the peppers in the prepared baking dish (peppers should fit well in the baking dish and be touching each other), if the peppers aren't level you can trim the bottom to level them. But just a bit, you don't want to cut a big hole in the bottom…only take off a sliver, this should help a lot (they don't have to be perfect).
Coat a large skillet with olive oil, heat over medium heat. Add ground beef, seasonings, onions, and diced peppers to the skillet. Cook until the beef is cooked through, no longer pink. Add 3/4 to 1 cup of the canned tomato sauce to the skillet with the beef, use just enough to coat the meat well. Season to taste with salt and pepper, as needed. Let the mixture cool slightly, 5 to 10 minutes. Add the mozzarella and parmesan cheese and stir to combine.
Fill the peppers with the beef-cheese mixture, packing the filling down tightly. If you have extra filling, spoon it around the outside of the peppers in the bottom of the baking dish. Drizzle the tops of the stuffed peppers with as much of the remaining canned tomato sauce as you wish.
Bake, covered with aluminum foil for 30 minutes. Remove the foil, sprinkle tops of peppers with a little extra parmeson cheese, and continue to bake for 15 to 20 more minutes (peppers will be tender, cheese should be melted and tops will be lightly browned).
Serves 4.
*Sugar-Free / Grain-Free

Email To A Friend

Print This Page