One of the most memorable things about visiting another country is the food. Is it because it's all that great, or just something new and different? I think maybe it's a little of both.
Well the great thing is that one doesn't have to travel to the far ends of the earth to enjoy other cultural foods. Once you know the basics of "healthy eating" you can experiment with other regions foods in your own kitchen. The best part is just experimenting and having fun while doing so.
Our family had a good time this weekend doing such.
We are currently finishing up our latest project, the Cooking God's Way Lacto-fermentation Book with History, Information, and lots of Recipes (due out by the end of March). I was working on a good recipe for traditional Kimchi, a very popular 'spicy' type of sauerkraut that is eaten every day in Korea, so I needed to source some ingredients.
We live in a large city so, thankfully, not too far from us there is an H Mart which is like a large Korean supermarket (they sell online too). We took a short day trip with the whole family an had a fun time.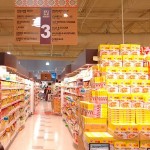 Upon entering the store it was evident that we "weren't in Kansas anymore" (so to speak). The aisles were narrow compared to the modern supermarkets that Americans are used to. The store was very busy with shoppers, including many Asian peoples (along with a few Americans here and there). Every aisle and product label was in Korean, with just a little bit of english.
I am glad I did my homework before heading out, so I knew what I was looking for and what I should expect.
Among all of the hustle and bustle in the store, there were workers everywhere constantly re-stocking shelves and so on. So if any questions arose, there was always someone around.
The family spent over an hour looking around the store at different things. The kids especially had fun looking at all the different produce and commented that, inside the store, they felt like "they were in another country". It wasn't until we exited the store and were in the parking lot where we saw the American Flag across the street that brought us back to reality.
It was definitely a fun trip!
The next day we had a Korean dinner, which consisted of Korean-Style Chicken with a side of rice and Kimchi. Everyone was a little anxious to try something so new and totally different. But it was really good and everyone really enjoyed it.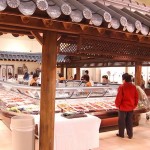 So my advice to you is to pick a country where the food interests you and search out recipes online. There a lot of really good bloggers out there from other countries that can help you. Once you find a recipe you want to try, now you need to source the ingredients (and change out any ingredients that aren't truly "healthy").
Find an ethnic store near you (or shop online) and just have fun!
Pictures courtesy HMart.com


Email To A Friend

Print This Page