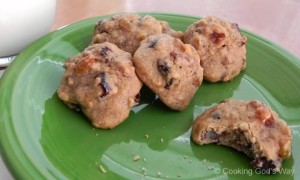 There are those who love fruit cake and those who don't (to put it nicely). I fall into the latter of the two…it's definitely not one of my favorites to say the least. But these cookies are really quite good. The taste is reminiscent of fruitcake, but in a good way 🙂 These cookies are made with plenty of "natural" dried fruit and none of that weird "artificial" colored fruit that most fruitcakes contain.
These cookies will satisfy both fruitcake lovers and non-fruitcake lovers alike. So if you're like me, and are not a fan of fruitcake, give these a try and you may be pleasantly surprised.
2 cups whole wheat pastry flour (could probably use spelt for a denser cookie)
1/2 cup (1 stick) butter, cold and firm
2 Tablespoons raw apple cider vinegar + enough filtered water to = 1/2 cup
4 to 6 Tablespoons raw honey or real maple syrup
2 Tablespoons gold rum (the alcohol will mostly evaporate during baking)
2 large eggs
1/2 teaspoon pure orange or lemon extract (or use a little freshly grated zest)
1 teaspoon vanilla extract
1 teaspoon ground cinnamon
1/2 teaspoon ground ginger
1/4 teaspoon ground cloves
1/8 teaspoon ground all-spice
1/2 teaspoon unrefined sea salt
1/2 teaspoon baking soda
2 to 3 cups dried fruit (I use a combination of dried coarsely chopped cherries, golden raisins, and regular raisins)
1/2 cup chopped pecans
1 batch of Honey "Lemon or Orange" Glaze
12 to 24 hours before you wish to "bake" the cookies: Measure flour into a large mixing bowl. Cut in the cold butter with a fork or dough blender
until mixture resembles coarse crumbs. Measure 2 Tbsp. of raw apple cider vinegar into a glass measuring cup. Add filtered water to equal 1/2 cup total. Gently mix this into the crumbly flour mixture. The flour should be thoroughly moistened, but still loose and crumbly. Cover bowl loosely, with a towel and/or plate (to keep dust/bugs out). Set aside to "soak", at room-temperature, for 8 to 12 hours.
The "day of" baking the cookies: Preheat oven to 325F. Line baking sheet with parchment paper for easy cleanup (otherwise grease the sheet). Set aside.
To the bowl of "soaked" dough add 4 to 6 Tablespoons honey (or maple syrup), along with rum, eggs, orange (or lemon) extract, vanilla, cinnamon, ginger, cloves, all-spice, and salt.
Using a wooden spoon (or even better, a dough whisk
– they work wonders at mixing soaked dough easily and quickly) mix together the ingredients in the bowl to combine.
Add in the baking soda and stir/fold in until incorporated. Fold in the dried fruit and chopped nuts. (The mixture will be chunky – this is fine.)
Drop cookies in 1-Tablespoon sized mounds on prepared baking sheet. Leave about 2-inches space between each cookie, as they will spread slightly.
Bake in preheated oven for about 20 minutes. Cookies will be set, slightly firm, and golden around the edges.
Remove from oven to a cooling rack that you have placed parchment underneath. Immediately brush with 1 to 2 coats of Honey Glaze (see recipe below). Allow to cool completely.
Makes 4-dozen cookies.
Honey Glaze (Orange or Lemon)

2 Tablespoons raw honey
2 Tablespoons freshly squeezed Orange or Lemon juice

Gently heat honey and orange (or lemon) juice together in a small sauce pan over low heat. Remove from heat when melted and combined.

Glaze cookies as directed above.

Email To A Friend

Print This Page