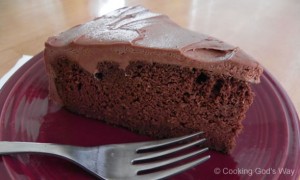 I recently made a grain-free yellow-vanilla cake made out of of a secret ingredient. Well it's not so secret anymore, so I can tell you…..beans. The whole family enjoys it and others have commented that it is really Delish, so I decided to make a chocolate version. Because after all who doesn't like chocolate?! This cake turned out great as well, but the only problem I have is deciding which I like better…the chocolate or vanilla. Hmmm…it is a puzzlement. (See the video at the end of the recipe for some fun 😉 )
2 cups cooked white beans, drained and at room temperature (I used great northern beans, soaked over night, put in fresh water the next morning and cooked until soft)
6 large eggs
1/3 cup rapadura or sucanat
1/8 teaspoon NuNaturals NuStevia™ White Stevia™ Powder (if not using, increase sugar slightly)
3/4 teaspoon unrefined sea salt
1 1/2 teaspoons vanilla extract
1/4 teaspoon espresso powder or Teeccino
OR 1/2 teaspoon chocolate extract (optional)
1/3 cup butter or coconut oil, melted and cooled
1/2 cup cocoa powder, unsweetened
2 Tablespoons coconut flour, sifted
1 1/2 teaspoons baking powder
1 teaspoon baking soda
Whipped "Chocolate" Cream-Cheese Frosting (see recipe below)
OR other desired frosting
Preheat oven to 350F. Grease a 9-inch cake pan generously with coconut oil (or butter) and dust with cocoa powder or coconut flour to coat bottom and all sides. Set prepared pan aside.
Add beans to food processor and pulse until broken up. Add in eggs and sugar, processing until combined.
Add in the stevia, salt, vanilla, espresso powder or teeccino or chocolate extract (if using), and melted butter. Process until a smooth batter forms.
Add in the cocoa powder, coconut flour, baking powder, and baking soda – process until well combined.
Pour batter into prepared pan and baking in preheated oven for 30 to 35 minutes – until a toothpick inserted into the center of cake comes out clean.
Remove cake from oven. Run a thin knife around the edge of the cake in pan. Cool in pan, on rack for 5 minutes. Gently flip cake out of pan directly onto wire rack and cool completely before frosting.
Serves 12+
Whipped "Chocolate" Cream-Cheese Frosting

2 ounces 100% cacao unsweetened baking chocolate, finely chopped
8 ounces cream cheese, softened
1/2 cup rapadura or sucanat
smidgen (1/32 tsp.) NuNaturals NuStevia™ White Stevia™ Powder (if not using, increase sugar slightly)
1 teaspoon vanilla extract
pinch (1/16 tsp.) unrefined sea salt
1 to 2 Tablespoons raw milk

Melt chocolate in a double boiler. Set aside to cool slightly.

Meanwhile: beat cream cheese, sugar, stevia powder, vanilla, and salt on medium-high until creamed and fluffy (about 1 to 2 minutes).

Pour in melted chocolate and beat again until well combined and fluffy. Frost cooled cake as desired.

Makes enough frosting to cover 1-layer cake.

Email To A Friend

Print This Page
Yul Brynner sings "A Puzzlement" from The King and I
King Mongkut of Siam (played by Yul Brynner) sings about the perplexity of knowing what to believe, in this clip from the 1956 movie "The King and I".