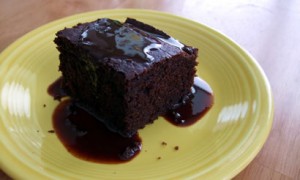 This rich, moist cake is a chocolate lovers dream. And it is a perfect way to use up some of your sourdough starter when you got too much. An easy, not to mention delicious, way to serve this cake is to simply drizzle each piece with some homemade hot fudge sauce.
1/2 cup sourdough starter
1/2 cup raw whole milk
1 1/2 cups whole spelt flour
1/2 cup rapadura sugar
1/8 teaspoon NuNaturals NuStevia™ White Stevia™ Powder, optional (if not using, increase sugar to 3/4 cup)
1/2 cup virgin coconut oil OR butter, melted
1 teaspoon vanilla extract
1 teaspoon pure chocolate extract
OR 1/2 tsp. espresso powder or Teeccino Herbal Coffee (optional)
1/2 teaspoon salt (a little less if using salted butter)
3/4 teaspoon baking soda
1/3 cup, lightly packed, unsweetened cocoa powder
1 large egg
Add the sourdough starter to a medium mixing bowl, stir in the milk and flour until combined. Loosely cover bowl with plastic wrap and set aside in a warm place for a minimum of 8 hours (up to 12).
Preheat oven to 350F. Grease a 9×9-inch square cake pan, set aside.
After the sourdough and flour are done soaking – In a large bowl, with an electric mixer, beat together the sugar, stevia powder (if using), oil, vanilla, chocolate extract (or espresso pwd. / teeccino), salt, baking soda, cocoa, and egg; beat well.
Add the sourdough mixture to the sugar-oil mixture. Gently fold in with a wooden spoon or spatula. At first the mixture will be quite thick and clumpy, but keep folding gently and it will come together.
Pour the batter into the prepared pan. Bake for 20 to 25 minutes, or until a toothpick inserted into center of cake comes out clean.
Cool on a wire rack completely. Frost with your favorite frosting, or for a simple but delicious treat drizzle each plain (non-frosted) slice of cake with some warmed Homemade Hot Fudge Sauce.
Some Other Frosting Options:
– Whipped Cream-Cheese Frosting
– Dark Chocolate Ganache Frosting
Makes 1-9×9 inch cake.


Email To A Friend

Print This Page