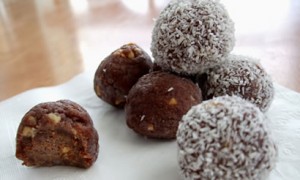 These little cocoa-peanut butter bites are a great snack. Stored in the freezer, you can grab one anytime you feel like it. And the great thing is that they are naturally sweet, with no added sugar or sweeteners. For a special touch, roll them in finely shredded unsweetened coconut before freezing.
1 cup crunchy Valencia peanut butter
2 Tablespoons unsweetened cocoa powder
1 ripe banana
3 Tablespoons freshly ground flax seed
dash salt, or to taste
finely shredded coconut, if desired (for rolling balls in, to coat)
In a medium bowl, mash the banana; stir in the peanut butter, cocoa powder and ground flax until very thick. If desired add just a little dash of salt (to taste) and stir in well.
Immediately roll mixture into small balls. (I like to use a little cookie scooper.)
Place balls on a parchment paper lined tray or plate (one that will fit easily in your freezer). Now is the time to roll them in the shredded coconut, if using.
Place in freezer for at least 2 hours. Transfer to a sealed container, or Ziploc bag, and keep stored in freezer until serving.
Makes about 2-dozen.