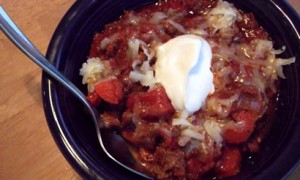 This is a very meaty chili, and a very hearty comfort-food meal. If you don't like beans in your chili, you may omit them.
1 can dark red kidney beans, drained (optional, you may omit if desired OR use homemade cooked beans)
2 pounds grass-fed ground beef
1 green bell pepper, chopped
4 stalks celery, chopped
1 small onion, chopped
2 cans (14.5 ounces) diced tomatoes,

undrained

1 can (6 ounces) tomato paste
1 cup prepared organic salsa (your favorite kind and desired heat level)
1 Tbsp chili powder
2 tsp cumin
1 tsp thyme
water, if needed
sea salt and pepper, to taste
cheddar or monterey jack cheese, crumbled or shredded (for garnish)
sour cream (for garnish)
Brown ground beef in a large skillet/dutch oven over medium-high heat. When barely any pink remains, add bell pepper, onions, and celery to pan; cook until onion is translucent. Drain off any excess oil, if needed; a little oil left behind is good…just not a swimming pool.
To the beef mixture add the drained canned beans (if using), canned tomatoes, tomato paste, salsa, chili powder, cumin, and thyme; stir well, until combined. If you like your chili a little thinner, add some water, a little at a time; up to 1 cup, or more depending on your preference.
Once mixture is bubbling reduce heat and let simmer for 30 minutes, stirring occasionally. If needed you may then add a little salt and pepper, to taste. Ladle into serving bowls and top each bowl with a little crumbled or shredded cheese and a dollop of sour cream.
This recipe is great with the Texas Skillet Bread!
Serves 6 to 8.
*Sugar-Free/Grain-Free

Email To A Friend

Print This Page