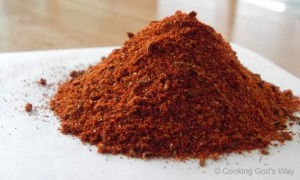 Homemade seasonings are easy to make, taste fresher than store-bought, and are typically much healthier due to the fact that they won't contain harmful chemicals/additives in the form of anti-caking agents and so on.
This chili powder blend can be used anywhere chili powder is called for. From soups and stews, to meat and poultry dishes… the possibilities are endless.
3 Tablespoons paprika
1 Tablespoons ground cumin
2 teaspoons dried mexican oregano, crumbled (substitute traditional oregano if needed)
1 teaspoon ground cayenne pepper
1/2 teaspoon garlic powder
Mix all ingredients well. Place in an airtight container, and store in a cool-dark place. Will last for several months.
Makes 1/3-cup.
*Sugar-Free / Grain-Free