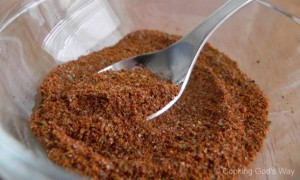 This Old Bay Seasoning blend is great on chicken, fish, or any kind of seafood. I especially like to use it in my Salmon Cakes recipe. It's rather simple to make at home with spices you probably already have in your cupboard. So you don't have to spend a few bucks on a jar of seasoning that you aren't exactly sure what kind of ingredients it has in it.
2 teaspoons celery seeds
8 bay leaves
2 teaspoons whole black peppercorns
2 teaspoons unrefined sea salt
2 teaspoons paprika
1 teaspoon dry mustard powder
dash (1/8 tsp.) ground nutmeg
dash (1/8 tsp.) ground cinnamon
dash (1/8 tsp.) ground cloves
Grind celery seeds, bay leaves, and peppercorns together in a spice grinder, or Vita-mix dry container, or by hand using a mortar & pestle.
Mix these ground spices with the remaining spices in a small container.
Use as needed in any recipe calling for "Old Bay Seasoning" or anywhere you see fit.
Store unused seasoning, covered, in a dark-cool place.
Makes 1/4 cup.