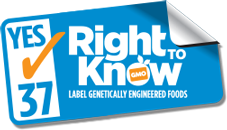 Have you heard about genetically engineered foods? Well California is taking the lead in the fight over this big issue, which is called Proposition 37. Think what is happening out there on the West Coast does not affect you… well read on!
What is Prop 37?
Proposition 37 is about the Mandatory Labeling of Genetically Engineered Food Initiative and will be decided on Nov. 6th, 2012. Here are the points addressed.
If Proposition 37 is approved by voters, it will:

Require labeling on raw or processed food offered for sale to consumers if the food is made from plants or animals with genetic material changed in specified ways.
Prohibit labeling or advertising such food as "natural."
Exempt from this requirement foods that are "certified organic; unintentionally produced with genetically engineered material; made from animals fed or injected with genetically engineered material but not genetically engineered themselves; processed with or containing only small amounts of genetically engineered ingredients; administered for treatment of medical conditions; sold for immediate consumption such as in a restaurant; or alcoholic beverages."

James Wheaton, who filed the ballot language for the initiative, refers to it as "The California Right to Know Genetically Engineered Food Act."
Did you see the second billet point above in Proposition 37? If you did not know, it is a big issue that companies label foods as Natural on product packaging. You will find cookies labeled "Grandma's Natural Chocolate Chip Cookies", and the ingredients list will be loaded up with so many chemicals it will make your head spin. They may be telling the truth the food may contain no artificial chemicals, just real ones.
What are Genetically Modified Organisms?
Genetically engineered foods derived from genetically modified organisms (GMOs) have been out on the market since 1994, when the Flavr Savr tomato hit the stores. It failed to make the cut because consumers said it was tasteless. Well that did not stop the the powers that be from continuing to produce foods. Now GMO soybean, corn, canola, rice, papaya, sugar beet and cotton seed oil have hit the market. These foods are not rare and in fact make up a large portion of the common foods sold. These foods are designed to resist rot, insects, drought and pesticides, all great ideas, but one question remains. Should foods be altered for all these great ideas or left in the natural state as they have been for many thousands of years?
GMO foods are something we need to take a look at as they have made big places for themselves in just a few short years. Most vegetable oil in the US is produced from GM crops; margarine, shortening and canola oil add to the list. Canola oil is made up of over 93% GM canola, soybeans in the US are approximately 95% GM. Sure is a high percent of of GMO to be in our food supply in such a short time. What about all the testing?
French Testing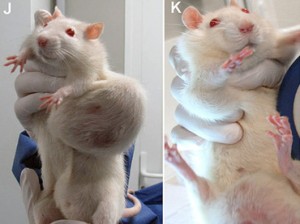 Just in Sept., French scientists released their study in which they fed rats a diet of GMO corn sold by Monsanto an American company. The rats suffered tumors and other issues such as kidney and liver damage. The numbers tell it all; Fifty percent of male and 70 percent of female rats died prematurely, compared with only 30 percent and 20 percent in the control group, said the researchers. Russia moved to stop the import of US GMO corn shortly after this study was released. If that was not enough to make me know there was an issue, I found the pictures that showed the rats, that was even worse. What else can I say a picture is worth a thousand words.
Prop 37
Now do you see why Prop 37 is so important? It will force the hand of the corporate companies to let us know how wide spread GMO foods are. There are already bills being introduced in congress to make labeling of GMO foods a requirement. Many countries in Europe have already passed this requirement.
Guess who is against prop 37, the list may surprise you.
BASF
Bayer
Dow
Pepsico
Nestle
Coca-Cola
Conagra Foods
General Mills
Del Monte
Kellogg
Kraft

H.J. Heinz
Hershey
J.M. Smucker
Mars
Hormel
Bumble Bee Foods
Ocean Spray Cranberries
Sara Lee
Bimbo Bakeries
Dean Foods

Cambell Soup
McCormick
Smithfield Foods
Cargill
Dole
WM. Wrigley
Sunny Delight
Land O'Lakes
Flowers Foods
Welch Foods
Godiva Chocolatier

Clorox
Tree Top
Morton Salt
Reily Foods
Goya
Bruce Foods
Sarento Foods
Idahoan Foods
I see in that list everything from soda, cereal, fruit, chocolate and cheese to butter, potatoes and ketchup for the fries. These are all companies I grew up eating and trusted. NOT NOW!
Help Out
Take a stand, let others know about what GMO foods can do. If you know people in California let them know about this info and help them to make the correct choice. Once California goes this way the country will follow. Share with everyone you know and if you want do donate to help Prop 37. YES ON 37
Source:
Ballot Pedia: California Proposition 37, Mandatory Labeling of Genetically Engineered Food (2012)
Revealed: Monsanto GM corn caused tumors in rats
Wikipedia: Genetically modified food
Prop 37 Funding