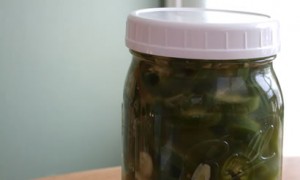 Lacto-fermented, or cultured, vegetables and condiments are a great way to get plenty of beneficial "good" bacteria in your gut. You should have some form of lacto-fermented condiment or side with every meal. Proper gut health is so important to your overall health, as most diseases and health problems stem from poor health of your GI tract. Read more about fermented vegetables in our article "Lacto-fermented Vegetables & Fruits…Give Them a Try".
My husband really loves "pickled" jalapeno pepper slices. I wanted to find a way to make them for him that was a healthier option…but one that he would still enjoy. Well he really loves these…especially on his pizza (sourdough of course 🙂 ) And they are so easy to make…..I know lacto-fermentation sounds hard, but it really is easy.
1 pound fresh jalapenos, sliced into 1/4″ rings (shake out loose seeds if desired, the more you remove, the milder they will be)
2 cups filtered water
1 Tablespoon unrefined sea salt
1 clove garlic, sliced
Other Items you will Need:
1-quart sized wide-mouth jar (preferably with air-lock lid)
Add half of the sliced garlic to a clean quart-sized jar.
Add half of your pepper slices to the jar, try to get them laying as flat as possible.
Add the remaining garlic slices, followed by the remaining pepper slices. (Fill the jar to 1-inch from the top to leave space for expansion.) Gently press down on the pepper slices to pack them in the jar….though don't press too hard or you will crush them.
In a bowl, or large glass measuring cup, mix together the water and salt to make a brine. Pour this mixture into your jar of peppers to cover them. If needed make up extra brine using the same ratio of water to salt (remember to leave at least 1-inch space from the top of the jar for expansion).
Place lid (preferably air-lock lid) on the jar tightly. If using air-lock fill with water according to instructions. Allow to ferment, at room temperature, for 2 to 3 days.
Remove air-lock lid, if using, and replace with storage lid — transfer to cold storage.
Makes 1-quart.
*Sugar-Free / Grain-Free