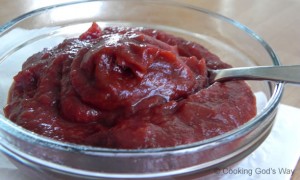 Making your own lacto-fermented condiments is quite easy, so why not enjoy the wonderful health benefits that come with lacto-fermentation?

We love this lacto-fermented ketchup on almost everything. With the molasses added, it tastes like a cross between BBQ Sauce and Ketchup…so it makes a very versatile condiment at the dinner table.
2 cans (6 oz. each) tomato paste
2 Tablespoons raw apple cider vinegar
3 Tablespoons whey (see how to obtain whey)
3 to 4 Tablespoons Maple Syrup, to taste
1 Tablespoon unsulphured Molasses, optional
1 teaspoon unrefined sea salt, or more to taste
1/8 teaspoon cayenne, or to taste
1/8 teaspoon ground all-spice
1/8 teaspoon onion powder
1/4 teaspoon ground cloves
1/4 to 1/2 cup water filtered water (to desired consistency)
Other Items you will Need:
1-pint or quart sized wide-mouth jar (preferably with air-lock lid)
Place all ingredients, except water, in the container of *food processor*. Add 1/4 cup filtered water and process until smooth. If needed add additional water until desired consistency is reached (for me it's about 3/8 to 1/2 cup of total water).
Place ketchup in glass jar, preferably with air-lock lid, capping tightly. If using air-lock fill with water according to instructions. Allow to ferment, at room temperature, for 3 days.
Remove air-lock lid, if using, and replace with storage lid. Transfer to, and keep in the refrigerator for long term storage.
Makes 2 cups.
*NOTE: If you do not have a food processor, you can simply whisk everything together by hand.*