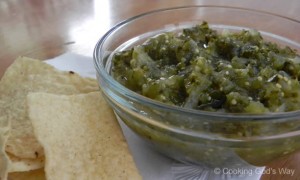 This salsa is one of my all-time favorites (the other is this roasted tomato salsa). This green salsa is excellent on top of anything from tortilla chips, eggs, tacos, beans, and more!
I could go on and on about the many uses of this lacto-fermented delight. But I won't, so you can get to making this for yourself 🙂
If you have read about why you should be enjoying lacto-fermented foods daily, check out this article.
2 pounds tomatillos
1 small white onion, sliced in thick slices but not separated
2 Jalapeño peppers
OR 2 Serrano peppers
1 clove garlic, do not peel
1 small bunch fresh Cilantro
1 to 2 Tablespoons fresh lime juice
1 Tablespoon unrefined sea salt
4 Tablespoons whey (see how to obtain whey)
Other Items you will Need:
1-quart sized wide-mouth jar (preferably with air-lock lid)
Remove papery husks from tomatillos, rinse well under cool water, and pat dry. Cut tomatillos in half from stem to end, and place on a baking sheet cut-side down. Place onion slices on baking as well, along with whole peppers and garlic clove.
Place filled baking sheet under broiler for about 10 minutes, or more, until the skin of tomatillos is lightly blackened.
Place tomatillos in food processor and pulse until finely minced. Remove to a large bowl and set a side.
Continue to mince the onions, peppers (stem and seed first), garlic (peel first), and cilantro…all individually. Add each to the large bowl with the tomatillos after done mincing.
Stir minced salsa ingredients together to combine.
Pour salsa into 1-quart jar, leaving some space for lime juice and whey. Carefully stir in the salt, lime juice, and whey into the jar of salsa. If there is left over salsa, and you have room in the jar, add it in…being sure to stir carefully and thoroughly. Make sure to leave at lease 1-inch of space from the top of the jar for expansion. (If you have leftover salsa that would not fit in the jar, simply season to taste with salt and lime juice and enjoy immediately, or place leftover in fridge and use within 2 to 3 days.)
Place lid (preferably air-lock lid) on the jar tightly. If using air-lock fill with water according to instructions. Allow to ferment, at room temperature, for 2 days.
Remove air-lock lid, if using, and replace with storage lid — transfer to cold storage.
Makes 1-Quart.
*Sugar-Free / Grain-Free

Email To A Friend

Print This Page